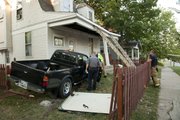 A Lawrence man in his early 50s was transported to Lawrence Memorial Hospital Thursday afternoon following an accident that left his truck in someone's porch in the 400 block of West Sixth Street.
According to Lawrence Police Sgt. Troy Squire the incident occurred about 6:30 p.m. The driver had been heading eastbound on Sixth Street when he crossed over the center line and kept going. He continued through the westbound lanes in his black Toyota truck and jumped the curb before crashing through the residence.
Medical crews responded to the scene and transported the man via ambulance to LMH with injuries that were not believed to be life threatening.
The accident resulted in extensive damage to both the residence and the vehicle.
An investigation into the cause of the incident is ongoing.
Copyright 2018 The Lawrence Journal-World. All rights reserved. This material may not be published, broadcast, rewritten or redistributed. We strive to uphold our values for every story published.