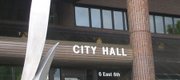 Subscribe to the email edition of Town Talk and we'll deliver you the latest city news and notes every weekday at noon.
• Aloha, which of course is Hawaiian for "I'll stay up watching basketball until the wee hours and nap at work." (Hawaiian is a very efficient language.)
Well, it may not exactly be a beach on Maui, but a plan to create a waterfront-like feel in North Lawrence is alive and well. What would you think of an 1,800-foot boardwalk that runs alongside the top of the Kansas River levee and connects to a new Johnny's Tavern and other shopping and dining options?
If you remember back to 2008 (if you do, you probably haven't been to Johnny's enough) we reported on an idea to convert the area near Johnny's Tavern in North Lawrence into a new commercial area that would have views of the adjacent Kansas River. That idea recently received a boost from the U.S. Army Corps of Engineers, and now the development group is seeking the first of many approvals that will be needed from Lawrence City Hall.
The group has a concept plan that calls for a 66,000-square-foot hotel, a 50,000-square-foot movie theater, a 27,000-square-foot sporting goods store, a new Johnny's Tavern, at least two other restaurants or a microbrewery, more than a dozen other miscellaneous retailers, and possibly some offices and condos. The majority of buildings would be built up high and have views of the river. In total, there would be about 220,000 square feet of new commercial space. The project would be on about 18 acres that would include everything between the Kansas River levee, North Second Street and Lyon Street. That includes a trailer park, which ultimately would have to be removed to make way for the development.
Before anyone will have to pack up and move, though, there is a long road ahead of the project at City Hall. And the first step is to actually have that section of North Lawrence declared an extension of Downtown Lawrence. By officially declaring the area part of downtown, the developers can use a special downtown zoning category that allows for taller buildings and smaller setbacks. The downtown zoning also greatly reduces the amount of private parking a project must provide. In most cases, a commercial development in downtown doesn't have to provide any. Paul Werner, a Lawrence architect who is designing the project, told me the developers want to have some flexibility on parking, but they certainly understand they'll have to build significant amounts of parking to make the project successful. One concept plan, Werner said, includes a parking garage for the site. But the developers also are counting on the idea that some people will park in Downtown Lawrence, do some shopping on the south side of the river and then walk across the Kansas River bridge to their development.
"We really do want to be an extension of downtown," Werner said.
The downtown zoning also would prohibit any type of bar-only development. Any new drinking establishments in Downtown Lawrence must be connected with a restaurant use, and Werner said the group is fine with that requirement.
"This won't be an Aggieville," Werner said. "The owners truly do love the idea of having a mix of uses in the area."
The group also is seeking to have at least one exception to the downtown zoning, which would allow for large buildings that have a footprint of more than 25,000 square feet. That would allow for the area to have some bigger box development that isn't allowed in downtown proper. As I noted, the concept plan includes 27,000-square-foot space for a sporting goods store. Can anyone say Dick's Sporting Goods? Werner said the development certainly would love to have them, but no deals have been reached with any tenants.
Success with potential tenants, of course, will be what determines whether this idea is just a pretty plan on paper or whether it turns into a real project. But the group has some businessmen who've had some success in making projects happen. The group includes: Rick Renfro and his partners in the Johnny's Tavern empire; Lawrence businessman Jon Davis, who has owned a host of commercial properties around Lawrence; and Christian Ablah, an area deal-maker who led efforts to develop the Home Depot and Best Buy area at 31st and Iowa streets.
The group probably needs the economy to turn at the right time for the project to become reality, but it will be interesting to see how much excitement the project generates. I was telling my wife about it, and she said it sounded kind of like Lawrence's version of a mini-Branson Landing, which is a commercial area along the shores of Lake Taneycomo in downtown Branson. She then got a warm and fuzzy glow about her, and went and snuggled with her credit cards.
• File this in the take-it-for-whatever-you-think-it-is-worth category. (Yes, there was a sale on hyphens at the grammar store.) There's a new study out that estimates Lawrence's retail vacancy rate is 7 percent. That is compared to a 14 percent vacancy rate for the Kansas City metro area, and a 10 percent rate nationally. The information comes from an area consultant who was hired by the North Lawrence development group to complete a city-mandated market study. That is also the same number that city staff members found when it produced a retail market study for 2010. City staff members, though, did find this summer that vacant square footage in downtown had risen to about 13 percent when there were several empty store fronts along Massachusetts Street. I do find vacancy rate data interesting because City Hall leaders are frequently told by some neighborhood advocates that the city has more retail space than it can support based on its income levels. But if Lawrence has a vacancy rate that is half of neighboring Kansas City and less than the national average, that argument seems harder to make. Or maybe not. We're good at arguing.
• So, the grocery bill has you wanting to be a farmer these days? If you want to do a little farming on city or county owned property — or even a lot of farming — there's a meeting you need to be at next week. The city and county will host an informational meeting about its new Common Ground program. As we previously reported, the project will open up 14 sites of publicly owned ground to farmers who want to do everything from create a community garden to running a commercial growing operation. The meeting will be at 5:30 p.m. on Monday at City Hall.
• Town Talk will be off tomorrow, hopefully swimming in a bowl of turkey gravy. Have a happy and safe Thanksgiving.
Copyright 2017 The Lawrence Journal-World. All rights reserved. This material may not be published, broadcast, rewritten or redistributed. We strive to uphold our values for every story published.