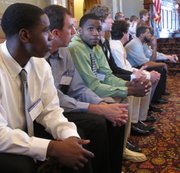 Topeka — Kansas officials are honoring the Wichita State men's basketball team for its NIT championship crown.
The Shockers beat Alabama 66-57 last month to win their first post-season NIT championship.
Players and coaches were at the Statehouse on Tuesday to be honored by the House and Senate.
Resolutions in each chamber noted the Shockers' accomplishments and expressed the pride of legislators and Kansas residents. The events took place before legislators conducted their regular business.
Gov. Sam Brownback met with the team in a separate ceremony.
Wichita State finished the season with a 29-8 record.
Copyright 2018 The Associated Press. All rights reserved. This material may not be published, broadcast, rewritten or redistributed. We strive to uphold our values for every story published.