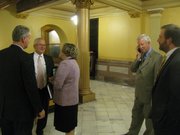 Topeka — After weeks of gridlock, legislators on Tuesday made progress on many key budget issues as the session neared its final day.
They continued working into early Wednesday, but couldn't reach a final agreement on how much to put away as an ending balance — a key stumbling block — and decided to take a break until later this morning.
On one of the major funding issues, House and Senate budget negotiators were nearing agreement on base state aid to schools of $3,780 per student — the lowest level in a decade and down from the current level of $4,012 per student.
Legislators started the session in January facing an estimated $500 million revenue shortfall, and school funding makes up about half the state budget.
Key legislators met throughout Tuesday and late into the evening with Gov. Sam Brownback on Day 88 of a 90-day session. Because they didn't reach a final deal, it appeared the session would extend into overtime for at least one day.
Early Tuesday, the House agreed to restore $5 million in funding for an airfare subsidy program in Wichita and $5 million to Washburn University.
That was followed by concessions from the Senate on a major sticking point — $15 million in research funds to Kansas University, Kansas State and Wichita State.
Brownback and the House wanted to run those grants through the Kansas Department of Commerce, while the Senate had pushed to put the funding under the Kansas Board of Regents. Brownback won.
Under the proposal, Kansas University will receive $5 million for cancer research; Kansas State University, $5 million for animal health research; and $5 million will go toward aviation research at Wichita State. The schools must match the grants.
The House's lead negotiator state Rep. Marc Rhoades, R-Newton, said after one meeting with Senate budget leaders, "I think that's good progress."
The Senate's lead negotiator, state Sen. Carolyn McGinn, R-Sedgwick, agreed, saying, "We've knocked a lot off the table."
Another major difference between the House and Senate plan was on Kan-Ed, the state administered program that provides broadband access to hundreds of schools, hospitals and libraries.
House members have proposed abolishing the program; the Senate wants to conduct a study on Kan-Ed before the next session and act on the study's findings.
Copyright 2018 The Lawrence Journal-World. All rights reserved. This material may not be published, broadcast, rewritten or redistributed. We strive to uphold our values for every story published.