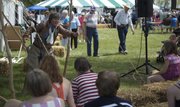 Leavenworth — Since they've been retired, Ruth and Charlie Kirby of Bonner Springs have loved to set out on day trips to visit destinations throughout Kansas.
On Saturday, though, they had the chance to visit the whole state in one day.
The Kansas Sampler Festival, taking place this weekend in Leavenworth, brings together performers, artists, food and drink vendors and all kinds of exhibitors from throughout the state.
"I went around to all the booths," Ruth Kirby said Saturday as she and her husband stopped to eat homemade ice cream from the south-central Kansas city of Harper. "I always love Kansas."
The Sampler festival was the place to be Saturday for people who shared that sentiment about the Sunflower State. It will remain open from 10 a.m. to 4 p.m. today in Ray Miller Park in Leavenworth.
Music carried through the air from three stages, visitors stopped at dozens upon dozens of exhibitors, and the crowd was dotted with people wearing such attire as cowboy hats and chaps, Civil War-era military uniforms or traditional Swedish dress.
Jason Cooper, who lives in rural Leavenworth County between Leavenworth and Tonganoxie, said he had never heard of the Sampler Festival until he heard a friend would be exhibiting there.
As he and his wife, Kathy, sampled beers from High Noon Saloon and Brewery in Leavenworth, they said they'd been pleasantly surprised by how much the festival had to offer.
For their 7-year-old son Luke, the highlight so far had been a ride on a handcar set up on a small stretch of railway by the Marshall County Railroad Historical Society. Kathy and Jason, though, couldn't get out of their heads the memory of the pie they'd tried from MarCon Pies, based in Washington, northwest of Manhattan.
"It was the best pie I've ever had," Kathy said.
Enjoying the festival from the vendor's end of things was Lana Howe of Tonganoxie, who owns Vintage Soap and Bath downtown there.
People from as far across the state as Hutchinson and Harper — and from Illinois, Arkansas and other states — came to Howe's stand, perhaps drawn by the scent of her goat's-milk soaps wafting through the air. A steady stream of customers had come throughout the day, Howe said, some watching soap-making demonstrations.
"Some of the kids don't realize you can actually make soap," Howe said.
Also appealing for children were two kids with Howe — a pair of six-week-old goats in a pen next to the stand, who had no lack of people offering to pet their heads.
This is the annual festival's second and final year taking place in Leavenworth. It moves around the state, stopping in cities for two years at a time.
Next year it moves to Liberal, in southwest Kansas.
Today, then, will be the last chance for area residents to visit the festival — without taking a lengthy road trip — for a while.
Daily tickets are $5 for adults, $3 for children 7-14 and free for children 6 or younger. Parking, which is marked by Kansas Sampler Festival signs and includes shuttle service, is available in several spots along Kansas Highway 7 near Ray Miller Park, which is near the Eisenhower Veterans Affairs Medical Center.
For more festival information, visit LJWorld.com/marketplace/all/kansas-sampler/.
Today, in celebration of Mother's Day, the first 500 mothers to enter the festival will receive a $2 coupon for a food or drink item or fresh herbs for sale.
Copyright 2018 The Lawrence Journal-World. All rights reserved. This material may not be published, broadcast, rewritten or redistributed. We strive to uphold our values for every story published.