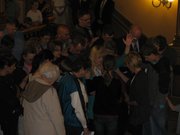 Topeka — Gov. Sam Brownback said Thursday he is sticking by his position to provide $15 million in higher education grants through one of his Cabinet agencies rather than the Kansas Board of Regents.
The proposal would provide $5 million each to Kansas University, Kansas State and Wichita State. The funding would go toward cancer, animal health and aviation research and be administered by the Kansas Department of Commerce.
The House has sided with Brownback on this issue, while the Senate has approved a budget that would place the funding with the regents, which oversees higher education. The House and Senate are negotiating on that and numerous other budget differences.
Brownback said he wants the funding to go through Commerce so that the program will focus on job creation.
KPERS compromise?
In a short interview after a National Day of Prayer ceremony, Brownback also spoke in favor of a recent legislative compromise on long-term funding problems with the Kansas Public Employees Retirement System.
"It sounds like a reasonable proposal. It deals with the current pool and then it gives us the time necessary, I think, to devise a good proposal on how we move forward with new state employees," he said.
The proposal would create a commission to study whether the state should start a 401(k)-style retirement plan and make a recommendation next year. It also commits the state to increase contributions to KPERS and would require public employees to choose between paying more into the system or having their benefits reduced.
Kansas Neurological Institute
Brownback said he would leave it up to the Legislature to decide whether to keep the Kansas Neurological Institute in operation. Originally, Brownback had proposed phasing out the state facility over two years and moving residents to community-based group homes. The proposal has sparked heated opposition.
"If they (legislators) decide to go another way — I propose, they dispose and so it's their decision," he said.
Abolishing the regents
Asked if he supported a proposed constitutional amendment to abolish the regents and State Board of Education, Brownback said he hadn't thought about it. The measure was proposed by House Speaker Mike O'Neal, R-Hutchinson, and will likely be debated next year. Under the plan, the governor would appoint a Cabinet-level secretary to oversee education.
Anti-union bill
Brownback seemed to support House members who are wanting to add a bill opposed by unions to legislation dealing with the state's payback of a federal loan that provided unemployment insurance benefits. He said the loan payback legislation was needed.
"Let's see what it takes to get it through the legislative process," he said.
The issue was at the center of a tense House-Senate conference committee meeting earlier Thursday.
Legislators say they need to pass a bill setting up a way for the state to repay to the federal government $171 million in loans made last year to cover benefits for unemployed Kansans.
But House Republicans, led by Rep. Anthony Brown, of Eudora, want to add to that measure to another bill that would prohibit unions from using funds deducted from members' paychecks for campaign purposes.
The Senate's lead negotiator on the unemployment issue, Susan Wagle, R-Wichita, also supports the anti-union bill, but said she doubted it would pass in the Senate.
Brown replied that the House "was prepared to walk away" from the underlying bill that deals with paying off the unemployment insurance loan.
Wagle said that would result in a massive tax increase for businesses and federal penalties.
"We're going to have to find a way to solve the family feud," she said. Brown responded, "The ball is in your court. We're waiting on your chamber."
Wagle tersely replied, "We're adjourned."
The so-called paycheck protection bill that Brown wants was at the center of controversy earlier in the legislative session.
Supporters of the bill say it will protect workers from being forced to contribute to candidates they don't support. Critics of the bill say paycheck deductions for political purposes are voluntary. Democrats say the measure is a way for Republicans to hinder union fundraising.
When the House approved the measure in February, several union members shouted from the public House gallery, urging legislators to vote against the bill. They were escorted out, and Speaker O'Neal barred one union official from the gallery for the rest of the session.
Republican House leaders also said several union members said obscenities to female legislators and staff members prior to the vote. But union members vehemently denied the allegation.
Copyright 2018 The Lawrence Journal-World. All rights reserved. This material may not be published, broadcast, rewritten or redistributed. We strive to uphold our values for every story published.