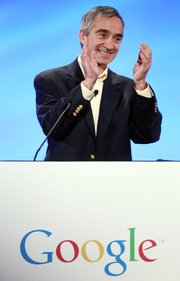 Wyandotte County is the winner of a high-stakes national competition to land Google's ultra high-speed fiber network.
"After a careful review, today we're very happy to announce that we will build our ultra high-speed network in Kansas City, Kansas," Google announced in a blog Wednesday morning.
And that also could be good news for Lawrence.
Lawrence leaders generally were pleased with the announcement that the high-tech network would be right next door to the city.
"I'm confident that we'll benefit from it in the long run," said City Commissioner Aron Cromwell. "We're the closest intellectual hub to the Kansas City area."
The Kansas University Medical Center will be in the area served by the new network. Dr. Roy Jensen, director of the KU Cancer Center, was among just a handful of Kansas City leaders featured in a Google video blog touting the project.
"I think that shows how important Google thinks it can be to KU," Cromwell said.
But Cromwell said in the longer term Lawrence may be in a position to benefit even more directly.
"Having it installed next door to us will make it easier for us in the future, if it is ever expanded," Cromwell said. "Having it a few miles down the road rather than in New York or California will be a benefit."
Beth Johnson, director of economic development for the Lawrence Chamber of Commerce, said the project was great news for Kansas, but said it could make Kansas City, Kan., more difficult to compete with when companies are trying to decide where to locate within the region.
"It certainly is an advantage they will have over others in the region," Johnson said. "But I think we all might benefit because certainly there's going to be a lot of attention for the entire area."
Local Internet providers were taking a wait-and-see approach to what the Google project would really mean.
"The Kansas City area should be pretty proud that from a demographic and technology standpoint that Google has selected the city," said Tony Palermo, vice president of marketing for Knology. "Nothing bad will come from it. Competition will benefit the consumer, but I think we all just have to wait and see what they really mean."
Knology provides Internet and cable service to Piper, which is just outside the city limits of Kansas City. Palermo said Knology doesn't yet know whether Google will be providing service in that area, though an article on the Kansas City Kansan website says that the Piper school district will be involved in the project.
"The interesting part will be in the details, not necessarily the intent," Palermo said. "I think there are always concerns about fairness, but our company was built on competition. There is more to competition than running fiber to a home or business."
Barbara Atkinson, executive vice chancellor at Kansas University Medical Center, said Wednesday's announcement was "huge for Wyandotte County and will be great for all of us."
And for KUMC in particular, it would boost research capacities, data analysis, access to patients for telemedicine and student teleconferencing capabilities, she said.
"Just having the ability to do so much more things so much more quickly is the future," she said.
Atkinson, speaking before she was scheduled to meet with Google executives later in the afternoon Wednesday, said that while it was still too early to fully know all of the benefits the high-speed Internet capacity might have, she guessed it could potentially help with faculty recruitment and could possibly boost KU's effort to become a designated National Cancer Institute.
"Everything that puts our name on the map helps," she said, particularly in the national media.
Copyright 2018 The Lawrence Journal-World. All rights reserved. This material may not be published, broadcast, rewritten or redistributed. We strive to uphold our values for every story published.