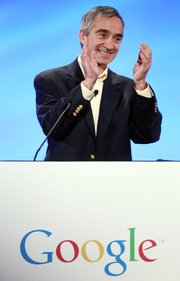 Kansas City, Kan. — With the lightning quickness of an ultra-high speed Internet connection, Gov. Sam Brownback welcomed Google Fiber to Kansas City, Kan., on Wednesday.
"As governor of this state, I'm declaring today Google Day in Kansas!" Brownback exclaimed to a packed auditorium at Wyandotte County High School, which was filled with people showing uninhibited pride in the fact that Kansas City, Kan., has been named the first community chosen for Google's "Fiber for Communities" program.
Google's announcement means that by 2012, residents, businesses and governmental agencies throughout Kansas City, Kan., will have access to ultra-high speed Internet to the tune of 1,000 megabits, 100 times faster than those elsewhere.
The news capped Google's yearlong, high-stakes, high-profile, national competition to find a community in which to pilot its ultra high-speed fiber network.
Milo Medin, Google's vice president for access services, said he expected Google Fiber to be to the broadband of today what broadband was 15 years ago to dial-up.
"Over the past decade, the jump from dial-up to broadband has led to streaming online video, digital music sales, video conferencing over the web and countless other innovations that have transformed communication and commerce," Medin said.
Joining Brownback and Medin at the noon news conference announcing Kansas City's selection were Patrick Pichette, Google's chief financial officer, Joe Reardon, mayor and CEO of the Unified Government of Kansas City, Kan., and Wyandotte County, and Cindy Lane, superintendent of Kansas City, Kan., public schools.
Pichette, who is spearheading the Google Fiber project, said more than 1,100 communities had vied for a chance to be selected for the project. Topeka, Kansas' capital city, renamed itself "Google, Kan.," for a day to draw attention to its bid.
Ultimately, Kansas City, Kan., was chosen after what Pichette called "incredible, careful evaluation."
Medin said when searching for a pilot city in which to begin the project, organizers looked for three elements:
• A city that would already have the infrastructure in place to allow Google to build "quickly and efficiently."
• A city that would allow Google to leverage the new service so it would have a lasting impact.
• "We want to be able to develop strong relationships and partnerships with local government and the community so that we can work together to use technology in a new way to make a city a better place to live in, a better place to work in, a better place to learn in. And we found all of this here in Kansas City, Kan."
Medin joked that the city and its staff had worked at "Google speed" to finalize the partnership with Google.

Reardon described the partnership as "transformative" and said it wasn't just the adults in the community who would benefit from Google Fiber.
"I'm excited today to announce that in partnership with Google, our students will benefit from this new opportunity as free high-speed access will be provided at schools throughout the city," he said.
Area communities are hoping to ride the coattails of the city's success, as well.
Beth Johnson, director of economic development for the Lawrence Chamber of Commerce, said the project was great news for Kansas, and said it could boost Kansas City, Kan., when companies are trying to decide where to locate within the region.
"It certainly is an advantage they will have over others in the region," Johnson said. "But I think we all might benefit because certainly there's going to be a lot of attention for the entire area."
For those cities that didn't get chosen for the project, Medin said all was not lost. The plan is to ultimately expand the project to other communities once it is determined how it will work out in Kansas City, Kan.
"This is really the beginning and not the end," he said.
Copyright 2018 The Lawrence Journal-World. All rights reserved. This material may not be published, broadcast, rewritten or redistributed. We strive to uphold our values for every story published.