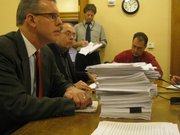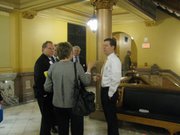 More budget cuts are likely to come next year
House Appropriations Chairman Marc Rhoades, R-Newton, and other Republicans promised that next year there would be much deeper budget cuts proposed by Gov. Sam Brownback.
"I can guarantee you, it will be different next year," Rhoades said.
Rep. Jim Denning, R-Overland Park, also a member of Appropriations, said he has heard Brownback say several times that he is committed to significant budget cuts next year.
House to take up EPA 'train wreck'
The Kansas House is scheduled to take final action today on a resolution criticizing the EPA's "regulatory train wreck."
House Resolution 6008 was taken word for word from "model" legislation from the American Legislative Exchange Council.
The resolution calls on Congress to adopt legislation prohibiting the EPA "by any means necessary" from regulating greenhouse gas emissions or establishing any new air quality regulations.
Quote of the week
"Just try not to hang your head in shame when your children and grandchildren ask, 'Why again were you against this health care benefit?'"
— State Sen. David Haley, D-Kansas City, speaking to those who were voting for a measure that they said will block federal health care reform in Kansas.
Siedlecki to be confirmed, GOP says
Key Republican senators said they were confident Gov. Sam Brownback's nomination of Robert Siedlecki to be secretary of the Department of Social and Rehabilitation Services will be confirmed.
Democrats alleged that Siedlecki said during a meeting that he would bypass legislative direction and fund faith-based initiatives. Siedlecki denies making the comment.
Senate Vice President John Vratil, R-Leawood, said he asked Siedlecki about it, and Siedlecki said he intended to comply with the Legislature's intent.
Talkington memorialized in Statehouse
Rep. Tom Sloan, R-Lawrence, last week carried a resolution honoring former Senate President Robert Talkington, R-Iola, who died last year. Before serving as a representative in the Legislature, Sloan was Talkington's chief of staff.
Of Talkington, Sloan said, "He served his faith, his family, his community and state. To me, he was the epitome of the nonpartisan leader. Whatever good I do, I learned from him."
Talkington played football and baseball at Kansas University and received his bachelor's degree and law degree there. Known as "Talk," he served in the state Senate for 15 years and in several positions in state and local government.
What's next:
9 a.m. today: Hearing on House Bill 2397, adequacy of state provision for finance of educational interests of the state, before House Education Budget Committee, Room 159-South, Capitol.
Noon today: confirmation hearing on Robert Siedlecki for secretary of Kansas Department of Social and Rehabilitation Services, before Senate Ways and Means Committee, 548-South, Capitol.
8 a.m. Tuesday: Hearing, discussion and possible action on House Bill 2390, repealing KAN-ED, before House General Government Budget, 152-South, Capitol.
Copyright 2018 The Lawrence Journal-World. All rights reserved. This material may not be published, broadcast, rewritten or redistributed. We strive to uphold our values for every story published.