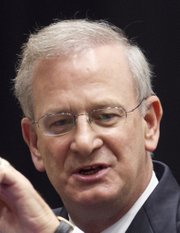 Washington — Thomas M. Hoenig, the longest serving of the Federal Reserve's 12 regional bank presidents, has announced he will retire on Oct. 1.
Hoenig, who had headed the Fed's Kansas City regional bank since 1991, was an opponent of the Fed's efforts to boost the economy through an extended period of low interest rates and the purchase of billions of dollars in Treasury securities. Hoenig dissented against these policies at all eight Fed meetings last year.
Hoenig had worried that the Fed's efforts to spur growth could trigger future inflation.
His departure had been expected because he will reach the mandatory retirement age for Fed bank presidents of 65 in September.
Copyright 2018 The Associated Press. All rights reserved. This material may not be published, broadcast, rewritten or redistributed. We strive to uphold our values for every story published.