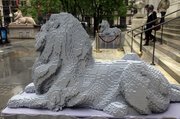 Topeka — A sculptor who works with Lego bricks will be at Washburn University as 28 of his creations go on display.
New York-based artist Nathan Sawaya will be available to answer questions from the media from 2 to 3 p.m. Friday. He'll meet with the public from 9 to 10 a.m. Saturday at the university's Mulvane Art Museum.
After a preview Friday night that is open to the public, the exhibit opens Saturday. The sculptures will remain on display through Sept. 18.
Admission to the exhibit is free. Besides viewing the sculptures, visitors also will get a chance to create their own Lego masterpiece in the museum's ArtLab.
Copyright 2017 The Associated Press. All rights reserved. This material may not be published, broadcast, rewritten or redistributed. We strive to uphold our values for every story published.