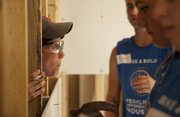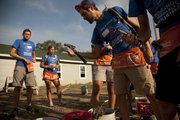 The summer heat has been beating down on the back of Kansas University graduate Rebecca Cremer. Her trek starts at 4:30 a.m. as she pedals her bike dozens of miles each day.
Cremer and 32 fellow Bike and Build cyclists in her crew are traveling across the country this summer, stopping periodically to help build a home.
Cremer and the Bike and Build crew are now in Lawrence. On Wednesday, they helped build a Habitat for Humanity home.
"I really enjoy giving back to the community I grew up with," the Jayhawk said. "There's a lot of people here who step up and say 'let me help you.'"
Bike and Build has been cycling from coast to coast since 2003 and has contributed more than $2.78 million to housing groups to fund projects, especially those for young adults ages 18 to 25.

Lawrence Habitat for Humanity has been a part of the Bike and Build tour since 2006, when the group added a Kansas route.
"We were lucky enough to receive their amazing service, and since then we have benefited from the organization," said Tracie Howell, Lawrence Habitat for Humanity executive director.
Howell said Lawrence offers "amazing hospitality, which includes a three-night stay at the Spring Hill Suites, food donated by Johnny's, Backdoor Bakery, Pieroguys Pierogies, The Daughters of Isabella, Local Burger, First Southern Baptist Church and St. John the Evangelist Catholic Church.
Mark Brooks, Lawrence Habitat for Humanity construction manager, said he is thankful to the entire community for their contributions, but the hotel is a "huge deal."
"It gives them a room, shower and a pool," Brooks said. "All amenities they need after traveling hundreds of miles on a bicycle."
The riders appreciate the hospitality.
"Most of the time we sleep on the floor of a church in our sleeping bags, and a church only has so many showers. So you are either taking a cold shower, washing off with a hose or taking a sponge bath," said Bike and Build rider Ellen Carpenter from Houghton, Mich. "The hotel is an upgrade from where we usually stay."
Lawrence is the halfway point in the 4,025-mile trip for the crew as they journey from Providence, R.I., to San Francisco.
"If you get sick on the way, they don't stop for you," Carpenter said. "I've been sick before, and so have some of the other riders. It happens, but the important thing is that we ride and build as a team."
Copyright 2018 The Lawrence Journal-World. All rights reserved. This material may not be published, broadcast, rewritten or redistributed. We strive to uphold our values for every story published.