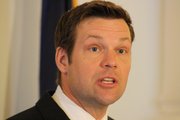 Topeka — Kansas Secretary of State Kris Kobach on Tuesday introduced legislation to require that voters show photo identification before they can vote.
"The time has come to secure the integrity of Kansas elections," Kobach said. His bill would also require proof of citizenship to register to vote, ID verification to get a mail-in ballot, increase penalties for voter fraud and increase the powers of Kobach's office and the attorney general's office to prosecute election violations.
A broad coalition of groups promised to fight Kobach, saying there is no evidence that there is a problem with the security of Kansas elections.
The Kansas Voter Coalition, which includes civil rights and religious organizations, argued that Kobach's proposals would suppress voter participation, especially of the elderly and minorities.
"This bill — a solution to a problem whose existence cannot be demonstrated — would have the likely impact of reducing voter turnout among legal registered voters," the coalition said.
The coalition, which includes the NAACP, League of Women Voters, Kansas chapter of the ACLU, Wichita chapter of Church Women United, and others, pointed to studies that show voter ID bills in other states have reduced turnout.
But Kobach, a Republican, denied that allegation and said he has built into his bill ways to ensure that the poor and the elderly get photo IDs.
Under his proposal, voters could get a free ID or birth certificate if they live in a household with an income up to 150 percent of the federal poverty level, or $33,075 for a family of four. In addition, anyone 65 or older could use an expired driver's license as a photo ID.
Kobach said he didn't know how much it would cost the state to provide those IDs. In a news release, the Kansas Voter Coalition said, "There is no logical rationale for spending additional taxpayer money to create a brand new bureaucracy to fight a problem that cannot empirically be shown to exist."
Kobach, however, as he did in his successful campaign for office, alleged there were many instances of voter fraud in Kansas. He said election fraud is often hard to determine and occurs many more times than it is reported.
"Election crimes have been documented across this state, but very little has been done to rectify the situation," Kobach said. "After this bill is passed, Kansas will stand head and shoulders above the other 49 states in ensuring that elections are fair."
Kobach, an attorney who was involved in writing the anti-illegal immigration law in Arizona, said, "When this bill passes, Kansas will be to voter fraud what Arizona is to illegal immigration."
State Rep. Lance Kinzer, R-Olathe, one of more than 30 co-sponsors of the legislation, said the measure has strong support in the Legislature. Gov. Sam Brownback, a Republican, has said he supports photo ID to vote, but he hasn't commented on other aspects of Kobach's proposal.
But House Democratic Leader Paul Davis of Lawrence said Kobach's proposal was a "solution in search of a problem" because there have been few instances of voter fraud in Kansas.
Davis added, "Kris Kobach should follow the lead of previous secretaries of state and work to make voting easier for Kansans, not more difficult."

Kobach said his bill also closes a "loophole" found in other states' voter ID bills by requiring verification for mail-in ballots. Under his bill, when applying for a mail-in ballot, a person must provide either a Kansas driver's license number, or the voter's non-driver's license identification number, or a photo-copy of a current photographic document. No advance voting ballot may be mailed unless the voter's signature on the absentee ballot request matches that on file in the county voter registration record, Kobach's office said.
Copyright 2014 The Lawrence Journal-World. All rights reserved. This material may not be published, broadcast, rewritten or redistributed. We strive to uphold our values for every story published.