Jefferson County Attorney Caleb Stegall has re-filed criminal charges against a Lawrence man who owns a botanical plant distribution warehouse that has been at the center of the state's K2 controversy.
Stegall's office announced Thursday morning he has filed 20 counts against Jonathan Sloan, 30, of Lawrence, who owns Bouncing Bear Botanicals in Oskaloosa, following a Kansas Bureau of Investigation probe into the "alleged unlawful distribution of controlled hallucinogenics."
Prosecutors said they also filed 20 counts against Clark Sloan, 51, of Olathe in connection with the investigation. Jefferson County Sheriff's detectives arrested Clark Sloan Thursday morning, Stegall said.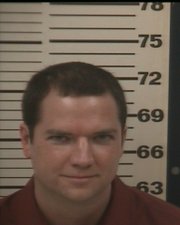 Last April Stegall dropped eight drug charges he had filed months earlier against Jonathan Sloan but said the investigation was still ongoing.
Officials have said the warehouse at Bouncing Bear Botanicals is a supplier for Sacred Journey, 1103 Mass., in downtown Lawrence, and Jonathan Sloan's initial arrest came after federal, state and local authorities conducted a raid last February at the store seizing the K2.
The Kansas Legislature last year passed a law that banned sale or possession of the substances found in K2 after law enforcement agencies complained K2 was a synthetic version of marijuana though it was marketed as incense.
Last year one of Jonathan Sloan's attorneys in the first criminal case, which was dropped, said his client was operating a legitimate botanical plant business at the warehouse north of Lawrence. The attorney said it was one of the country's largest distributors of botanicals.
According to Stegall's office, Jonathan Sloan made a first appearance in Jefferson County District Court Thursday morning on the new criminal charges. According to the sheriff's office, both men posted bond to be released from jail Thursday afternoon.
Jonathan Sloan and another plaintiff has filed a civil lawsuit in federal court against a business in Oregon and one in Nevada alleging they have infringed Bouncing Bear Botanicals' trademark on the name "K2" for its incense products.
Copyright 2018 The Lawrence Journal-World. All rights reserved. This material may not be published, broadcast, rewritten or redistributed. We strive to uphold our values for every story published.