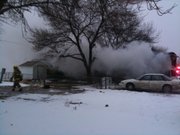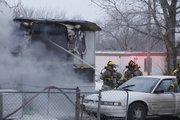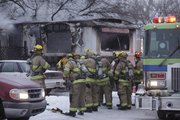 Fire investigators Wednesday said a fire that destroyed a Lawrence mobile home Tuesday afternoon was an accident and caused by "improper use of an open flame device" to try to thaw frozen pipes.
The six residents of the home at 1900 W. 31st escaped without injury, according to officials with Lawrence Douglas County Fire and Medical, and the Douglas County chapter of the American Red Cross. Fire broke out about 5 p.m. Tuesday.
Eve Tolefree, a fire and medical division chief, said that the home was considered a total loss and that the fire caused an estimated $21,000 in damages.
Resident Jason Dye said Tuesday evening that he had been working to fix a leaking pipe when the fire started. Dye believed the fire was caused by an electrical spark that eventually ignited insulation inside the home.
One pet at the home was not accounted for Wednesday morning, although other pets survived and were being cared for at the Lawrence Humane Society, said Jane Blocher, Red Cross executive director.
Blocher said the chapter provided hotel rooms, food and clothing for the six residents of the home.
Copyright 2018 The Lawrence Journal-World. All rights reserved. This material may not be published, broadcast, rewritten or redistributed. We strive to uphold our values for every story published.