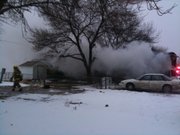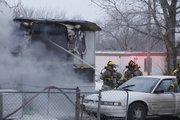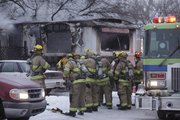 1900 W. 31st Street
No one was injured Tuesday afternoon when a fire engulfed a home in the 1900 block of W. 31st Street.
The fire was called in about 5 p.m. and multiple Lawrence-Douglas County Fire Medical crews worked to contain the flames. Heavy smoke was billowing from the Gaslight Village about 5:15 p.m., leading the Lawrence Police Department to close down 31st Street.
Resident Jason Dye said he had been working to fix a leaking pipe when the fire started. Dye believed the fire was caused by an electrical spark that eventually ignited insulation inside the home. He said he and the other five people living in the home were able to make it out safely.
The Douglas County Chapter of the American Red Cross was on the scene to assist the home owners. Witnesses described the trailer as badly damaged from the fire.
No official cause or damage estimates were immediately available.
Copyright 2018 The Lawrence Journal-World. All rights reserved. This material may not be published, broadcast, rewritten or redistributed. We strive to uphold our values for every story published.