Photo Gallery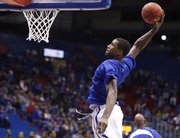 KU vs. Howard
Press Conferences & Post-Game Interviews
KU coach Bill Self
Kansas coach Bill Self talks to reporters following the Jayhawks' 89-34 victory over Howard on Dec. 29, 2011.
Seldom-used Merv Lindsay, Christian Garrett, Niko Roberts and Jordan Juenemann became reacquainted with Kansas University's basketball fans during a festive, feel-good 89-34 romp over Howard University on Thursday night in Allen Fieldhouse.
In all, 13 Jayhawks played five minutes or more on a night fans spent as much time spying on celebrity couple Jason Sudeikis and Olivia Wilde as watching KU easily claim its ninth win in 12 tries.
"I was proud of all my teammates. We all go through this together. We do Boot Camp together. We practice together. We do everything together. I was happy for everybody," said Lindsay, a 6-foot-7 freshman out of Moreno Valley, Calif.
He exploded for nine points off 4-of-5 shooting (his first points in a KU uniform) with three rebounds (his first rebounds as well) while playing eight minutes.
"There are many ways you can contribute to a team," noted Lindsay, who had played just four minutes in three games all season prior to Thursday. "Whether it's cheering on the bench or getting in the game scoring and grabbing rebounds, you can do a lot of things. If you do anything and everything to help your team win, you'll be all right."
Lindsay's favorite moment of the blowout — the 34 points allowed were third-fewest allowed in a game in the Bill Self era — had nothing to do with his own play.
"When I was under the rim, I went for a rebound. I heard Justin (Wesley, six points, five rebounds, 14 minutes) screaming," Lindsay said. "I looked up, and I turned my head, and there he was dunking the ball. I ran down the court and looked at the big board to see the replay, but they didn't even play it. I guess I've got to see 'SportsCenter,'" he added of viewing Wesley's vicious tip dunk.
There were other eye-pleasing plays, such as Thomas Robinson's one-handed follow dunk on a night he had nine points and seven boards in 22 minutes.
Also, Tyshawn Taylor and Conner Teahan swished three threes apiece en route to 13 points apiece.
Jeff Withey had six blocks to go with 10 points.
KU dished 23 assists against 13 turnovers while forcing Howard into 24 turnovers against just six assists.
Just about everything proved pleasing to coach Bill Self, except for a blatant snub by his celebrity buddy Sudeikis, who never introduced Wilde to Self.
"I don't even know who she is, other than the fact she was co-star on the show 'House' that I never missed an episode of," Self said with a smile. "That's being truthful. I loved that show. I like Jason OK, but I really was looking forward to meeting her, and they left early (with three minutes left).
"That's kind of a bad deal. He wants tickets and he leaves early," Self added, smiling.
Overall, Self said, "We started out good. We got after them early (in building 42-13 halftime lead). I thought we played with more energy and did some good things. We shared the ball. Then we just puttered around the second half."
Taylor had five assists against just one turnover and Naadir Tharpe five assists against three turnovers in 17 productive minutes.
"That was a lot of fun," said senior guard Teahan, who had five rebounds and an assist against no turnovers in 17 minutes. "Our crowd came out with a lot more energy than we expected, especially since it's Christmas break. Once we got our big lead, we were able to stay focused. In the past, we haven't done a great job of that, but fortunately we were able to do that, today."
Noted senior Juenemann, who had five points and a board in 10 minutes: "It's always great getting a win and getting comfortable so you're able to show some things that we can do as a team. It's nice to get back here and play in front of our crowd over the break. It was a great win."
Of his playing time, he noted: "It's great to get some time out on the court, especially with all the reps we have in practice. Some of the walk-ons and guys on the end of the bench haven't been able to get in the game. It was nice coach gave us the opportunity to go out and play and have some fun."
Next up is Saturday's 3 p.m. matinee against North Dakota in Allen Fieldhouse.
Copyright 2018 The Lawrence Journal-World. All rights reserved. This material may not be published, broadcast, rewritten or redistributed. We strive to uphold our values for every story published.