Photo Gallery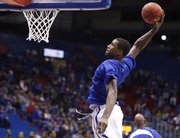 KU vs. Howard
Press Conferences & Post-Game Interviews
KU coach Bill Self
Kansas coach Bill Self talks to reporters following the Jayhawks' 89-34 victory over Howard on Dec. 29, 2011.
Howard University's 34 points scored were the fewest by a Kansas University opponent since Alcorn State totaled 31 in KU's 98-31 win on Dec. 2, 2009, in Allen Fieldhouse.
It marked the third-fewest points allowed in the Bill Self era. Dartmouth scored 32 points in a 83-32 loss to KU on Nov. 28, 2006, in Allen.
Kansas held Howard to 13 points in the first half. It was the second-straight game that KU has held its opponent to 13 points in the first half, the other at USC. It marked the first time the Jayhawks have held back-to-back opponents under 20 points in a half since the 2007 season (Washburn, 18; Northern Arizona, 10).
The 81 points allowed by KU over the last two games mark the fewest in a two-game stretch since before the 1988-89 season.
Howard's 22.2 percent shooting (12 of 54 overall, 3 of 18 from three) was lowest by a KU opponent since Dayton shot the same percentage in the 2009 NCAA Tournament.
Howard's 12 total field goals were fewest by a KU opponent since Alcorn State had 12 in a game on Dec. 2, 2009. Howard also set a season-low by a KU opponent in free throws (seven) and three-point field-goal percentage (16.7).
More team stats
KU's 55-point victory was largest since a 98-41 victory over Ohio on Nov. 26, 2010. ... The Bison's 24 turnovers and 16 offensive rebounds were season-highs by a Jayhawk opponent.
In the house
"Saturday Night Live"/big-screen actor Jason Sudeikis attended with his date, actress Olivia Wilde. Sudeikis wore a KU baseball cap and Wilde a KU stocking cap. ... Future KU guard Conner Frankamp, a 6-1 junior point guard from Wichita North, attended and sat behind KU's bench. Frankamp orally committed to KU in July following an unofficial campus visit on June 30.
Copyright 2018 The Lawrence Journal-World. All rights reserved. This material may not be published, broadcast, rewritten or redistributed. We strive to uphold our values for every story published.