Photo Gallery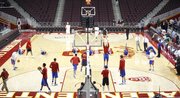 KU vs. USC
Los Angeles — Maybe FSN scheduled such a late start time in an attempt to find a temporary cure for the suffering insomniacs on the East Coast. If so, it undoubtedly was a smashing success. They'll be rested and ready for Christmas.
Otherwise, the first half of Kansas University's 63-47 victory Thursday against USC in Galen Center didn't exactly serve as a shining example of how far basketball has progressed since Dr. James Naismith, born in Almonte, Canada, and buried in Lawrence, invented the game 120 Decembers ago.
USC cheerleaders, the perkiest in the business, deserve to endorse better beauty products than the Trojans basketball team. Dribble, dribble, dribble, clang. Dribble, dribble, dribble, pass intercepted and taken the other way for a dunk. Timeout. The USC cheerleaders take the court and spread their good holiday cheer, refusing to let the basketball team's poor performance darken their moods.
It will get better for the Trojans because most teams won't be able to defend them the way Kansas did in the first half.
In a first half that raised the question of why anyone thought it necessary to cut the bottoms out of the peach baskets, Kansas couldn't shoot straight and still nearly doubled up the Trojans, 25-13.
It served as another reminder to a Kansas team that has just one returning starter that there will be nights it can't shoot its way to victory and must win by keeping the other team from scoring.
Coach Bill Self isn't convinced his team has embraced that mentality yet, but the truth is the more experienced a basketball player becomes, the smarter his coach becomes in his eyes.
Why should basketball be any different?
Ask the average teenager to rate his or her father's intelligence on a scale of 1 to 10, and the honest answer is a lot closer to 1 than 10. Ask the same person in his or her mid-20s, and it's a lot closer to 10.
Sure, it was an ugly basketball game, but there's no such thing as an ugly victory. The players knew it was coming because their coach had warned them they would need to get into grinder mode.
"I listen to coach so much because he knows what he's talking about," said junior guard Elijah Johnson, who scored a team-high 14 points and had four steals and four rebounds. "He warns us. A lot of people let it go through one ear and out the other, but I listen. I let it stick. Whenever he warns us about something, it happens, ever since my freshman year. Even when I didn't play, he would say stuff, and sitting on the bench I would just see it happening."
The split-loyalty crowd of 6,431 had a particularly stale ring to it in the first half.
That happens when the action doesn't create many reasons to get loud. Despite the sluggish pace, Kansas maintained defensive intensity throughout the first half.
"That shouldn't matter," Johnson said of the empty seats and quiet voices. "One thing I'm starting to realize is we're blessed. We're actually spoiled. We play in front of a packed crowd every night, and it shouldn't take a packed crowd to get us motivated. We lost to Northern Iowa the first round my freshman year, and that was an empty gym. That's a tournament atmosphere. We have to be used to playing in that. We shouldn't need a crowd to turn us up, although it gives you that extra momentum, we should be able to turn each other up on our own."
The more often Kansas can play in front of empty seats, the better prepared it is for March, Johnson reiterated.
"Everyone is so used to the fieldhouse, and that's how they think every college game should be, so when we come to USC and they don't have a full house, it's easy to get lazy on a situation or to overlook it, and I'm trying to tell everyone we can't do that," Johnson said.
If KU can embrace winning without style points and realize that keeping the other team from scoring is the best path to success, it has a shot to contend as an underdog in the impending Big 12 race.
If and only if.
Copyright 2018 The Lawrence Journal-World. All rights reserved. This material may not be published, broadcast, rewritten or redistributed. We strive to uphold our values for every story published.