Photo Gallery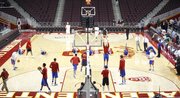 KU vs. USC
Los Angeles — There was to be more leg-room than usual on Kansas University's red-eye charter flight from L.A. to Topeka early this morning.
"We came out with a full plane. We go back with half a plane," KU director of operations Barry Hinson said with a smile.
Only three players — Jordan Juenemann (Olathe), Travis Releford and Conner Teahan (Kansas City) — were to board the charter following Thursday's late KU-USC game.
California Jayhawks Jeff Withey, Merv Lindsay, Christian Garrett and Kevin Young, plus Las Vegas native Elijah Johnson, left USC's Galen Center with relatives, as they'll be spending Christmas on the West Coast.
The rest of the Jayhawks stayed with KU administrator Larry Keating at the team hotel (Marriott), with early wake-up calls for today and morning flights from LAX to hometowns across the country.
"The guys are all excited. Christmas is a time for families to be together, and our players want to be with their families," Hinson said. "Coach (Bill Self) is adamant about families being together this time of year.
"It does provide some challenges," Hinson added. "What we do is about two months out, we try to find the best rates for flights and try to get them home as quickly as we can. We've got some guys on the East Coast who can't get back until Friday night. Thomas (Robinson) is flying to D.C., Tyshawn (Taylor) to New Jersey, Naadir (Tharpe) to Boston and Niko (Roberts) to Florida."
Also, Justin Wesley is headed to Texas.
Everybody will be back in Lawrence for practice on Monday night.
The team's annual holiday hoops clinic for boys and girls first through sixth grade will be 1-3:30 p.m. Tuesday in Allen Fieldhouse. Pre-registration must be completed at billselfbasketball.com. No walk-up registration will be allowed. The clinic, hosted by current KU players, coaches and staff, will include fundamental instruction, a camp T-shirt, a Junior Jayhawk Basketball, a 2011-12 team picture and one general admission ticket to KU's Dec. 29 home game against Howard. Additionally, there will be an autograph session with the current KU team and coaches following the clinic.
Upset specialists
The L.A. Times pointed out that, entering Thursday's game, Pac-12 teams had won nine of 46 meetings against ranked teams from other leagues over the last three seasons. Of those nine wins, USC had four — over Texas, UNLV and Tennessee twice when each of those teams was ranked.
Lewis next to commit?
KU may have emerged as the leader for Isaiah Lewis, a 6-foot-3, 160-pound junior point guard from Christ the King High in Brooklyn, N.Y.
Lewis, who is ranked No. 52 nationally in the Class of 2013 by Rivals.com, has a final list of KU, Louisville, Georgia Tech, Memphis and Florida. He is a good buddy of No. 35-rated junior Brannen Greene, who committed to KU earlier this week. Greene is 6-8, 200 from Mary Persons High in Forsyth, Ga.
"Everyone is expecting me to go to Kansas because of Brannen," Lewis told cbssports.com. "Everyone knows we are best friends, so it doesn't matter to me. I may commit this month. I'm weighing all my options."
Of KU he said: "I like how coach Self lets his guards play. It starts with the guards. The tradition is great and coach Self knows how to win."
CBSsports.com says Lewis is "a high-level scorer who is very good in the mid-range. He has a good floater and pull-up jumper, and also knows how to get into the lane. Lewis has good athleticism, and has been developing into more of a facilitator than a scorer since moving over to the point. He said he is working on his 3-point shot."
Peters update
Future KU basketball forward Zach Peters, a 6-9, 235-pound senior out of Prestonwood Christian Academy in Plano, Texas, finished the football season with 82 catches at wide receiver for 1,095 yards and 15 touchdowns. He also rushed twice for 38 yards. Peters was second-team all-state and first-team all-district. Prestonwood last month fell in the state semifinal football game to Beaumont's Kelly Catholic, 24-21, at Texas A&M;'s Kyle Field.
On Wednesday, Peters scored 15 points in helping Prestonwood Christian claim a 62-42 victory over Grace Prep of Arlington, Texas, in the finals of the City of Palms Tournament in Florida. Prestonwood became the first Texas team to win the tournament, which started in 1973. Peters helped hold 7-footer Isaiah Austin to 10 points.
Randall update
Former KU forward Mark Randall, who works in community relations for the Denver Nuggets, recently was elected to the KU Alumni Association Board of Directors.
"I will be in Lawrence at least three times a year for those meetings, and I am excited about that. Our goal is to make sure the Alumni Association stays as strong as ever and to try to build the relationships we have with the community inside the university and out," Randall told KU media relations. "We want to get people more aware of the Alumni Association and how it benefits current and past students as well as the university. Through the Alumni Association I have been able to learn even more about the university. Last September was my first meeting and I'm honored that they have asked me to serve on the board, which I get to do for five years."
Randall, 44, was a member of KU's 1988 national title team and 1991 NCAA runner-up squad. He reports that he plays in an adult hockey league in his spare time.
Copyright 2018 The Lawrence Journal-World. All rights reserved. This material may not be published, broadcast, rewritten or redistributed. We strive to uphold our values for every story published.