Photo Gallery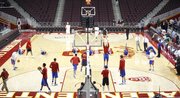 KU vs. USC
Los Angeles — USC coach Kevin O'Neill believed playing a big name like Kansas University was too much for his young team during Thursday night's 63-47 loss to KU.
"It's the level of team — the 11th-ranked team in the country," O'Neill said. "It's not like our arena was a huge stage. I'm not saying that. I'm just saying for our guys to play against Kansas … I thought it was a little bit too much for us."
USC junior forward Aaron Fuller even went so far to admit the Trojans were intimidated by playing the national powerhouse.
"At halftime, we were saying, 'We can't play the name that's on the jersey. They're just like us. They're just like any other person,'" Fuller said. "It felt like some of us, maybe it was kind of big (to play KU), but we're still young, a new group of guys."
The nervousness was apparent early. USC committed 13 turnovers in the first half after averaging just 12 turnovers per game. The Trojans finished with 18 turnovers.
"I thought our guys were lethargic and kind of got knocked on their heels a little bit," O'Neill said, "and didn't really recover very well."
The Trojans' 13 first-half points were the fewest they'd scored in a half all season.
"We never really gave ourselves a chance," O'Neill said.
In the second half, USC's defense faltered. KU made half of its shots (13 of 26) and also 46 percent of its threes (5 of 11).
"Our defense was just bad, just terrible today," Fuller said. "They were doing anything they wanted to do. They got it in down low, hitting threes. Our defense just wasn't there."
O'Neill left most impressed by KU point guard Tyshawn Taylor.
"I think that guy really makes them go. I probably like him better than (KU coach) Bill (Self) does. Everybody likes somebody else's players better than theirs, but I think he did a really good job tonight of running their team," O'Neill said. "When he stays on the ball and runs things and doesn't try to do too much, he's really effective."
Copyright 2018 The Lawrence Journal-World. All rights reserved. This material may not be published, broadcast, rewritten or redistributed. We strive to uphold our values for every story published.