Photo Gallery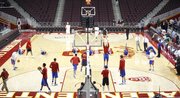 KU vs. USC
Los Angeles — Happy holidays, indeed.
Kansas University's basketball team completed the pre-Christmas portion of its 2011-12 schedule with a 63-47 victory late Thursday night over USC at Galen Center.
The victory, which answered Monday's defeat to Davidson, marked KU's 23rd straight following a loss. The Jayhawks still haven't suffered back-to-back losses since the 2005-06 season — a span of 215 games.
Not that this one was anywhere near as pretty as a fluffy snowfall on Christmas Eve. The teams in the early going were point-deprived, evidenced by KU's 25-13 halftime lead.
Yes, the Trojans managed just 13 first-half points.
"Mr. Iba would have been proud of that first half," KU coach Bill Self said of defensive-minded Hank Iba, who would have applauded KU for allowing the program's fewest points in a half since Florida Gulf Coast scored 13 on Nov. 8, 2008.
"That was an exciting 40 minutes wasn't it?" Self added with a smile.
Self had to applaud his troops for hard work on defense.
USC, which hit five of 22 shots the first half (22.7 percent), finished at 34.7 percent overall. KU forced 18 turnovers and had six steals, with Elijah Johnson snatching four.
"I thought we guarded them great," Self said. "Our offense wasn't good (41.5 percent shooting, 7-of-18 from three to USC's 6-of-14 performance). It was good for us to guard that well the first half. We needed that. I'm a little disappointed the way we guarded the second half."
USC scored 34 points to KU's 38 after intermission.
"We rebounded well again (39-29 advantage)," Self said, "and Elijah, Tyshawn (Taylor, 10 points, nine assists, two turnovers while playing without a brace for the first time since his right knee surgery) and Travis (Releford) did a great job on Jones."
Maurice Jones hit two of 13 shots and scored seven points with six assists and three turnovers.
"That's a team that just hung 83 on TCU," Self said. "They didn't get a lot of good looks tonight."
In Self's words, USC did a "great job collapsing" on Thomas Robinson, who had 10 points and nine boards in 30 minutes. So KU worked it around well the second half, Johnson finishing with 14 points and Conner Teahan 13.
"Coach told us to expect it to be a grind-it-out game, and it was. We expected that," Taylor said.
"My teammates stepped up when they doubled me," Robinson noted.
As far as specifics, KU led 13-12 with 6:49 left in the first half. The Jayhawks finished the half on a 12-1 surge, which included five players scoring. KU's defense forced 13 turnovers that first half.
The Jayhawks upped the lead to 17 points (32-15) two minutes into the second half, but USC cut it to 10 (40-30) at 12:39.
That's when KU used a 15-4 run to go up by 21 (55-34) and put it away with 6:55 left. Robinson had six straight points and Johnson five in the run.
It all added to KU's eighth win in 11 tries.
USC fell to 5-8.
It was a nice bounceback from the Davidson game.
"We had to win tonight. There was no other choice," Self said. "Davidson ... to let that one get away, I can't say it's unforgivable, but it's up there. That was very disappointing the way that went down in Kansas City."
A crowd of 6,431 attended in a building that seats 10,258.
"We had to have half the stands, 2,500 to 3,000 fans," Self marveled.
Faces in the crowd included actors Johnny Knoxville and Rob Riggle and talk-show host Jimmy Kimmel, who sat behind KU's bench, as well as ex-Jayhawk center Eric Chenowith.
Copyright 2018 The Lawrence Journal-World. All rights reserved. This material may not be published, broadcast, rewritten or redistributed. We strive to uphold our values for every story published.