Kansas City, Mo. — The parents of a missing 19-year-old Olathe woman are getting support from the family of Kelsey Smith, who was abducted from an Overland Park parking lot and murdered in 2007.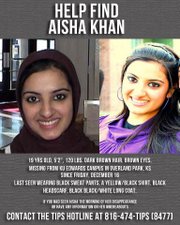 The Kansas City Star reports that Greg and Missey Smith met with Fozia and Amanat Khan, parents of Aisha Khan. The Smiths are offering to support the Khans and coordinate new efforts to find their daughter.
Police have been searching for Khan since Friday. She was studying at the University of Kansas campus in Overland Park when she left her sister a voice mail saying she slapped a man who tried to kiss her. When the sister drove to get her, she found only her book bag and cell phone.
Police say there are no developments in the case.
Copyright 2018 The Associated Press. All rights reserved. This material may not be published, broadcast, rewritten or redistributed. We strive to uphold our values for every story published.