Overland Park — Police in northeastern Kansas say they're no closer to learning what happened to a 19-year-old student who disappeared last week.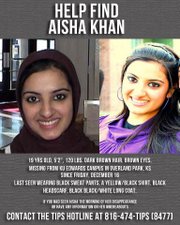 Aisha Khan studies at Johnson County Community College. She called her sister Friday from the University of Kansas' Edwards Campus saying she was running from a drunken stranger who harassed her while she studied outdoors.
The Kansas City Star reports that Overland Park Police Chief John Douglass told a news conference Monday the case is being treated as an abduction. The chief says dozens of investigators have searched nearby land and canvassed every house within a mile of the campus.
The New York-born Khan got married July 31. Police say they have no reason to suspect her husband, who pleaded Monday for his wife to be found.
Khan's family have distributed fliers, set up a Facebook page and offered a $10,000 reward for any tips that lead to her whereabouts.
Copyright 2018 The Associated Press. All rights reserved. This material may not be published, broadcast, rewritten or redistributed. We strive to uphold our values for every story published.