Photo Gallery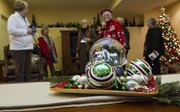 Holiday Homes Tour
A record number of people took part in the seventh annual Holiday Homes Tour on Sunday.
Eight homeowners opened their doors to more than 550 people to benefit Health Care Access, a clinic in Douglas County that provides health care to uninsured patients.
Bill Hougland's 504 Canyon Drive home was one of the residences featured. He smiled as he looked across the room and mingled with visitors. He explained how he and his wife, Carolie, have been preparing the house since they returned from Hawaii to watch the Kansas University basketball team in the Maui Invitational. He said he loves being a part of the tour.
"It's for such a good charity," Hougland said. "That's why you do these things."
He didn't talk about himself, but the walls of his study did the talking for him. There's a mounted trout on the wall. There's a black-and-white photo of him dressed in a military uniform next to Marilyn Monroe. And there's the banner honoring him as a member of the 1951-1952 national champion KU basketball team. Hougland also won two Olympic gold medals in basketball, in 1952 and 1956.
Each house told a story about the people living there.
The paper cranes that decorated Sue and Richard Givens' home, 2145 Owens Lane, were a few of the 1,000 constructed for their daughter's wedding. Sue has volunteered at Health Care Access since it began.
Connie and David Ehrlich converted a dining room into a personal art gallery at their home at 201 Fall Creek Road. It features some of Connie's paintings and art she has collected from around the world, including Mexico, Italy and, closer to home, Eudora. Upstairs, there's an entire room dedicated to her Barbie doll collection, including "Star Trek" and "X-Files" versions of the doll.
The tour also stopped at The Windsor of Lawrence, an assisted living center at 3220 Peterson Road. Kelley Moore, sales director, said a few residents previously had their homes in the tour and wanted to participate again.
Lori Myrick spent the last few weekends preparing her home, 3207 Nottingham Court, for the tour. Both she and her husband, who provides care for Health Care Access, are long-time supporters of the clinic.
"It's fun; you see lots of people from the community," she said.
Kim Johnson, assistant director of Health Care Access and tour coordinator, said this year's attendance was record-breaking — twice the number of visitors as last year. The clinic has already provided 6,400 medical appointments this year, and Johnson said money from the tour will help provide many more.
"Homeowners want to give to Health Care Access and want to share what they do with others," Johnson said. She said she doesn't believe the economy will discourage charity.
"Regardless of how bad the economy is, you still feel like you've got to give it forward," she said.
Copyright 2018 The Lawrence Journal-World. All rights reserved. This material may not be published, broadcast, rewritten or redistributed. We strive to uphold our values for every story published.