Topeka — Gov. Sam Brownback on Friday received the traditional Christmas Tree, but had to put it outside because of a fire code that prohibits placing real trees inside state buildings.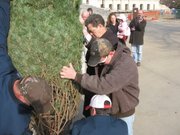 Traditionally, the tree presented by the Kansas Christmas Tree Growers Association is delivered to the governor's mansion, Cedar Crest, and placed inside.
But Brownback said he was informed that was against the fire code because a live tree in a public building could be a fire hazard.
The issue was discovered when someone wanted to put a fresh tree in a building at Kansas State University, and fire officials refused to let that happen, Brownback said. Brownback said then someone questioned the tradition of putting the tree in Cedar Crest.
The 10-foot scotch pine came from the Memory Lane Christmas Tree Farm owned by Harry and Juanita Peckham of Rantaul. It was delivered to the south side of the Capitol on a horse-drawn wagon owned by Robin Dunn of Dunn's Landing in Wellsville.
A tree-lighting ceremony will be held on Monday.
Brownback said he has put up an artificial Christmas Tree at Cedar Crest.
Copyright 2018 The Lawrence Journal-World. All rights reserved. This material may not be published, broadcast, rewritten or redistributed. We strive to uphold our values for every story published.