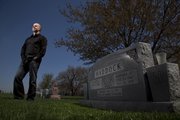 After years of legal battles, convicted murderer Kenneth Haddock's chances for a new trial come down to two hairs.
Haddock — serving a life sentence — was convicted by a Johnson County jury in 1992 for murdering his wife, Barbara Haddock, at their home in Olathe.
Elizabeth Cateforis, Haddock's attorney from the Kansas University Project for Innocence, argued in front of the Kansas Supreme Court Wednesday that the hairs — clutched in Barbara's hand at the crime scene — point to Haddock's innocence.
New DNA technology found that the hairs belong to an unidentified woman, which "materially changes the evidentiary landscape of the case," Cateforis said.
Early testing of the hairs showed that they were "consistent" with Kenneth Haddock's hair. Forensic analyst testimony at the trial said that Kenneth Haddock was included in the 7.4 percent of the Caucasian population that could have been the contributor of the hairs.
Had the jury known back then that the hairs did not come from Kenneth Haddock, it could have made a significant impact on the jury's decision, Cateforis said.
"What would the jury do now?" she said during her argument.
But there's another twist.
Steven Obermeier, senior deputy district attorney for Johnson County, argued that the newer DNA testing also showed blood evidence on Haddock's shoes and clothing belonged to Barbara — evidence that further points to Haddock's guilt, he said.
At trial, prosecutors presented a myriad of circumstantial evidence against Haddock that remain unchanged, Obermeier said.
Barbara Haddock's body was found on Nov. 20, 1992, by her two daughters under a pile of firewood in their Olathe garage. Investigators suspected foul play, and determined Barbara was killed by several blows to the head with an object.
When Kenneth Haddock showed up to the scene, he told police he thought Barbara was killed by accident when the woodpile fell on top of her — an assertion that prosecutors say was an ineffective attempt to cover up the crime.
The prosecution's theory at trial was that Haddock, under pressure from a pending bank fraud case, killed his wife during an argument.
Much of Wednesday's hearing involved arguments about whether the new DNA evidence was favorable enough to Haddock's defense to warrant a new trial.
Both sides said they don't expect the court to hand down a decision for at least several months. One option for the court would be to order a new trial in the case.
If that happens, Obermeier said his office would "absolutely" prosecute the case again.
Haddock's son, Steve Haddock, 36, was at Wednesday's hearing and said he and his two sisters have always believed in their father's innocence. Steve said it's been a long, emotional battle for the family.
"It's always weighing on us," he said.
Copyright 2018 The Lawrence Journal-World. All rights reserved. This material may not be published, broadcast, rewritten or redistributed. We strive to uphold our values for every story published.