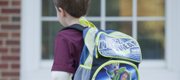 Subscribe to the email edition of First Bell and we'll deliver you the latest local education news and notes every weekday at noon.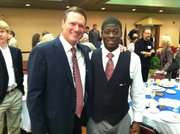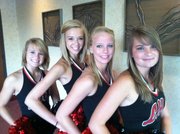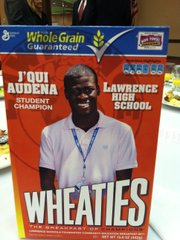 Funny how one guy can run an investment firm with more than $200 billion under management and be introduced by another guy who's coached one of the country's top college basketball programs to a national championship, and they still can be upstaged somewhat by a high school senior.
Welcome to J'Qui Audena's world.
Audena, one of four Student Champions recognized during Friday morning's Community Education Breakfast, stood out before, during and after the event, an annual education celebration that had drawn more than 550 people to hear from David Booth, chairman and co-CEO of Dimensional Advisers; and Bill Self, men's basketball coach at Kansas University.
But before the festivities started, there Audena was hanging around near the entrance to the Holiday Inn Lawrence, chatting it up with four Lawrence High School girls with pompons. Actually, they were the ones chatting him up.
Then during the event, Lawrence school district Superintendent Rick Doll was busy lauding Audena as "the embodiment of charisma," a guy who had been elected as a Boys State delegate and a Boys Nation senator, and who had won the state championship in speech and debate in original oratory for his persuasive speech, one regarding the benefits of "using charm during contentious times."
Doll couldn't help but pause, as Audena beamed on stage.
"I think he's going to do just fine," Doll told the crowd, himself smiling as he handed over a Student Champion plaque.
Then afterward, Self visited with teachers and supporters and friends before making his way over to the champ to offer his own congratulations.
"You're a stud," Self told him, shaking hands. "I can learn a lot hanging with you."
No matter where I went, somebody was saying something about Audena. Maybe it was his sharp vest. Or the Wheaties box with his photo on there, as a Student Champion.
Or maybe this guy just has it going on.
"He's going to be president someday," said Natalie Wilkins, another Student Champion, who happened to walk by after I'd snapped Audena's photo.
Yep, he's got it going on, all right.
•••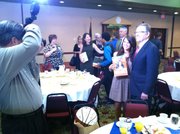 The Student Champion award winners come from Free State and Lawrence high schools: one boy and one girl from each "who embody the leadership skills, the outstanding academic preparation and the true commitment to school and community service inherent in our finest Firebirds and Chesty Lions," Doll said.
The winners:
• Audena. Among his other accomplishments is helping organize blood drives for the American Red Cross, working on gardening projects at Lawrence High and serving as student body president. He is the son of Damarius Hill and Roldy Audena.
• Wilkins. She serves as a mentor for underclassmen at Lawrence High, where she has participated in golf, choir, National Honor Society, newspaper, soccer, FYI Club, basketball and Geography Club. She is the daughter of Maley and John Wilkins.
• Jevan Bremby. He is senior class president at Free State, serves on the Board of the Kansas Consortium for Youth Voice, is an actor and singer, had attended Rotary Youth Leadership Academy and has traveled to Latvia and Lithuania with the Lawrence Children's Choir. He is the son of April Harris and Rod Bremby.
• Meixi Wang. She is president of the Math Team and captain of the Scholars Bowl team at Free State, and is active in Link Crew, Model United Nations, Science Olympiad, Knowledge Master Open and National Honor Society, and this past summer attended the Robert J. Dole Institute of Politics Youth Civic Leadership Institute and participated in the Girls on Ice wilderness science program exploring mountaineering, glaciology and alpine geology. She is the daughter of Zhongjun Wang and Linghua Li.
•••
During the breakfast event, David Booth shared some heartfelt memories of his years at Lawrence High. Of particular note were his recollections of Principal Neil Wherry's uplifting morning announcements and of calculus teacher Margaret McReynolds' caring committment.
Then there was this gem:
"I had a lot of great teachers," Booth told the crowd. "Somebody said Mr. (Steve) Sublett was here. I had him for chemistry."
Silence.
"Maybe he didn't show up," Booth continued. "That's OK. I didn't show up for all his classes, either."
Copyright 2018 The Lawrence Journal-World. All rights reserved. This material may not be published, broadcast, rewritten or redistributed. We strive to uphold our values for every story published.