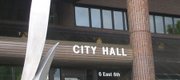 Subscribe to the email edition of Town Talk and we'll deliver you the latest city news and notes every weekday at noon.
News and notes from around town:
• A Lawrence High student has plans to officially invite President Barack Obama to make a speech in Lawrence in 2012. The student may have a better chance than you would think. He's already arranged to meet the president in person late next week. Incoming LHS student body president J'Qui Audena is one of two Kansas students serving as national delegates to next week's Boys Nation event hosted by the American Legion in Washington, D.C.
Audena has written a letter inviting the president to come to Lawrence next year to deliver an address. Ideally, the president would speak at a joint commencement ceremony for Lawrence and Free State high schools, but Audena will be thrilled with any date. Audena doesn't expect any type of commitment to be garnered from his upcoming visit. Instead, he plans to hand out copies of his invitation letter to White House officials that he is hopeful of meeting. He also plans to get the invitation to some key people in the office of Kathleen Sebelius, the former Kansas governor who is now the secretary of Health and Human Services.
Getting the president to visit a Republican stronghold state in an election year may be difficult, but Audena said he hopes Obama's ties to Kansas through his mother will be a factor. Plus, he plans to appeal to the president's love of college basketball and mention that the original rules of the game are now on display in the area. Obama also has yet to make an official presidential visit to the state.
Audena is a former student of Clenece Hills, a local historian and one of the key organizers of Lawrence's Sesquicentennial celebration. She's hopeful that the state's Sesquicentennial and the vital role Kansas played in ending slavery also will be factors the president will consider.
Audena — who has long been interested in politics — got his presidential idea when he saw a photo of a young Bill Clinton shaking hands with John F. Kennedy at Boys Nation. Audena then ran a successful campaign at LHS to become the school's delegate to Boys State, then gave a rousing speech in front of 475 members of Boys State to win an election to serve at Boys Nation. While he's at Boys Nation, he'll also have more on his mind than just inviting the president. Audena also will have his own campaign to manage. He plans on running for the president of Boys Nation.
• Happy Lawrence Sidewalk Sale Day. Of course, if you are a true sidewalk sale fan, you're probably not reading this. You are already on the pavement armed with a canvas bag that not only carries your bounty but also serves as a swinging tool to clear a path to the next bargain. For many people, this is a big deal. I know my wife had me sign some papers on a home equity loan last night. (Or maybe that was just in my nightmare.) Regardless, I do have some downtown news that may pique the interest of shoppers. If you thought the days of retail on Vermont Street might be done with the closing of Talbots at 646 Vt., think again. Commercial real estate broker Allison Vance Moore with Colliers International confirmed to me that a letter of intent has been signed for a major general merchandise retailer to go into the spot. A finalized lease is expected soon. No official word yet on the tenant, but Moore indicated it was a very recognizable name.
"It is going to be a great addition to downtown," Moore said. "Just wait until you hear who it is."
Let the speculation begin.
• When it comes to speculation, I make it a rule to not speculate on businesses that may be closing. It is bad form. But I will pass along to you what I've seen at the Sports Dome at 1000 Mass. The athletic apparel retailer has a handwritten sign on its door saying it is closed for inventory. It evidently has been up since at least Independence Day because the sign also wishes everyone a Happy July 4. No one was at the store yesterday afternoon, and the phone number for the store has been disconnected. It also appears the store's Web site is no longer functioning. But peeking through the window, the store is still full of merchandise. I'll let you know if I hear more.
• The sidewalk sale is organized and marketed each year by Downtown Lawrence Inc. Now, that organization has a new office. The group has moved its office out of the US Bank Tower building and into a second-floor space at 833 1/2 Mass., above Kizer-Cummings Jewelers. Cathy Hamilton, executive director for DLI, said the group decided it was time to have more of a Massachusetts Street presence. Although the office doesn't have ground-floor space, it will allow DLI to have a Massachusetts Street sign that is more visible to visitors. Hamilton said that sign also will have a new logo for DLI, which is being worked on currently.
Copyright 2018 The Lawrence Journal-World. All rights reserved. This material may not be published, broadcast, rewritten or redistributed. We strive to uphold our values for every story published.