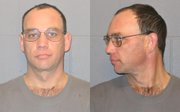 A 45-year-old Edgerton man in Douglas County District Court pleaded guilty Friday to molesting two girls, ages 5 and 6, in 2010.
Scott James Bivins entered the pleas Friday morning to two counts of aggravated indecent liberties with a child, one for each victim, prosecutors said. Bivins was facing a trial on seven child sex crime charges after District Judge Peggy Kittel heard evidence from prosecutors at a preliminary hearing in April and June.
The mother of the 6-year-old girl testified in April that she saw her daughter touching Bivins in the groin area in her family's backyard last year. The 5-year-old girl is the daughter of the woman's boyfriend, who knew Bivins.
Sheriff's officers also testified the two girls told them Bivins would molest them when he came to their house, which is east of Baldwin City in southeastern Douglas County.
Douglas County prosecutors dismissed five remaining counts as Bivins pleaded guilty to the two charges.
According to court records, Kittel ordered Bivins to undergo a sex offender evaluation. His sentencing is scheduled for Oct. 18.
Copyright 2018 The Lawrence Journal-World. All rights reserved. This material may not be published, broadcast, rewritten or redistributed. We strive to uphold our values for every story published.