Topeka — More than 250 people packed a church on Monday to urge Gov. Sam Brownback to keep open a state hospital for those with profound disabilities.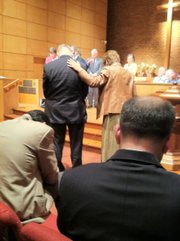 Brownback has proposed shutting down the Kansas Neurological Institute as one of many cost-cutting moves in the face of an estimated $500 million state budget gap.
But parents of KNI residents, politicians, doctors and clergy said such a move would be immoral and end up costing the state more money.
"This is not acceptable behavior," state Sen. Roger Reitz, R-Manhattan, said of Brownback's proposal. "Kansans are better than that," he said.
Many in the crowd at the First Congregational Church responded, saying "Amen." Some of them wore buttons that said, "Respect Life. Keep KNI Open."
Kansas legislators reconvene the 2011 legislative session on Wednesday to write a budget for the fiscal year that starts July 1.
Brownback proposed phasing out KNI over a two-year period and moving the 155 residents there to community-based group homes.
The Legislature, however, has rejected the proposal. But the issue remains in the air and many KNI supporters say they fear that even if the Legislature funds KNI, Brownback will still move to shut it down through his administrative authority.
"Even when the gavel comes down and ends the 2011 legislative session, that doesn't mean the issue is finished," said state Sen. Laura Kelly, D-Topeka.
Brownback's point-man on the issue, Kansas Department of Social and Rehabilitation Services Secretary Rob Siedlecki Jr., attended the meeting and sat on the front row with key members of his staff.
After the meeting, Siedlecki said he respected the concerns and passion brought by those connected to KNI. "I came here to listen," he said as he spoke with people who attended the event.
"This is not an easy issue," he said, adding that Brownback takes seriously the concerns of advocates of KNI.
Speakers argued that closing KNI would not save any money because many of the residents would end up requiring more acute care hospital stays. Of the residents at KNI, 90 percent have profound disabilities and the remaining have severe disabilities. Eighty-three percent cannot speak, 68 percent are unable to walk; 76 percent have seizures; 85 percent require help to use the toilet and one-third are fed via tubes.
"There is no good financial reason to close, and there certainly is no good moral reason to close it," said state Sen. Kelly.
The Topeka facility, spread over 180 acres, has an annual budget of approximately $29 million, with nearly $11 million coming from state tax funds.
Some disability rights groups have argued that moving residents to more community-based group homes, would improve their quality of life, and that shutting down the facility would free up some funds for others with disabilities who are on waiting lists.
But several parents of KNI residents said they had tried community-based group homes and had terrible experiences because of inadequately trained employees at those homes. Their children didn't receive the care they needed, they said.

KNI employees are better trained, and there is less employee turnover because they earn more than those working in private homes, they said.
Dr. Kevin Sundbye, the medical director at KNI, noted that when Brownback was a U.S. senator, he was one of the nation's leading voices to help people in war-torn Sudan. Sundbye said Brownback needed to do the same thing for residents of KNI.
Rev. Tobias Schlingensiepen, who organized the meeting, said the state must find the needed revenues for KNI instead of forcing groups to fight one another for funding.
"When we pit those who are receiving services against those who are not receiving services, we are appealing to the meanest aspects of human nature," he said. "We are saying there is a scarcity and because there is a scarcity, everyone fights for a piece of the pie," he said.
Copyright 2018 The Lawrence Journal-World. All rights reserved. This material may not be published, broadcast, rewritten or redistributed. We strive to uphold our values for every story published.