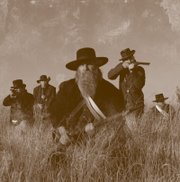 Stories and resources compiled for the 150th anniversary of the historic battle near Baldwin City where many say the Civil War began.
The Lawrence Preservation Alliance will honor the Black Jack Battlefield Trust and Katie and Ken Armitage in an award ceremony at 7 p.m. May 4 at the Castle Tea Room, 1307 Mass.
The organization is honoring Black Jack Battlefield Trust for its work preserving and restoring the historic battlefield, and for organizing commemorative events, re-enactments and tours.
Katie and Ken Armitage are being honored for their work researching Lawrence history, including Katie's recent book "Lawrence: Survivors of Quantrill's Raid."
Tickets are $25. Visit www.lawrencepreservation.org and click on "Events" to register.
Copyright 2018 The Lawrence Journal-World. All rights reserved. This material may not be published, broadcast, rewritten or redistributed. We strive to uphold our values for every story published.