Governor Sam Brownback discusses Kansas energy policy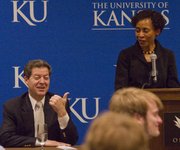 Kansas Gov. Sam Brownback compared the state's energy policy to riding an elephant.
"We need as clean as environment as possible that costs as low as it can with as abundant amount of energy as possible," Brownback said. "It's kind of like riding an elephant. It goes back and forth on you all the time."
On Thursday morning, Brownback addressed a crowd of Kansas University students, energy researchers and industry experts at The Oread Hotel as part of the KU Energy Conference.
Brownback stressed the need to balance the three E's of energy, environment and economy.
He urged the state to find ways to harvest and store wind, explore how to capture methane for energy and explore growing crops that can be transformed into biofuels.
These renewable solutions, Brownback said, must come from a market-driven process, not one created through tax and regulations.
"The best way to move the public and nation forward is to create a market for it," Brownback said.
Kansas has potential to become a giant in producing wind energy, but Brownback said the industry needs to find ways to better harvest wind, store it and get it to market.
"I am just struck with how we have this great wind, but how do we get it to market," Brownback said.
He also liked to see wind farms that can be used to make the fertilizer anhydrous ammonia.
Brownback urged KU students to pursue careers in the energy industry and to look at their own consumption of energy, something he did one year for Lent. Brownback recommended J. Matthew Sleeth's book "Serve God, Save the Planet: A Christian Call to Action."
"You got to do it in a fashion people will accept," Brownback said on crafting energy conservation policies. "People want to be green. They want to conserve energy."
Copyright 2018 The Lawrence Journal-World. All rights reserved. This material may not be published, broadcast, rewritten or redistributed. We strive to uphold our values for every story published.