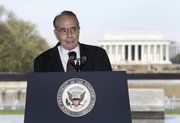 Kansas City, Mo. — Former Kansas Sen. Bob Dole's tireless efforts to ensure the construction of the World War II Memorial will be honored forever by a plaque to be installed near the main concourse at the shrine in Washington D.C.
The plaque was dedicated during a ceremony at the memorial on Tuesday. A string of dignitaries praised Dole not only for his work on behalf of the memorial but for his dedication to veterans and their issues throughout a long public service career.
"Simply put, the World War II Memorial would not exist were it not for Sen. Bob Dole," said Sen. Pat Roberts of Kansas.
Dole, who is 87 and in frail health, was severely wounded 66 years ago on Thursday while fighting in Italy in World War II. The native of Russell, Kan., recovered and went on to represent Kansas in the U.S. House and Senate before leaving office for an unsuccessful bid to be the GOP presidential nominee in 1996.
During his career and after retirement, Dole never forgot the military and fellow veterans, Vice President Joe Biden said.
"Bob Dole's valor on the battlefield in the mountains of Italy was no different than the moral courage in his public life," Biden said. "I learned from Bob Dole, going all the way back to 1972, that, although we have multiple obligations as a nation, we have only one truly sacred obligation. That is to prepare and equip those we send into battle with everything they need, and to care for these warriors and their families when they return."
Secretary of the Interior Ken Salazar said in a letter that Dole's "sacrifice for the nation, his historical commitment to members of the armed forces of the United States, and his role in raising funds for the construction of the World War II Memorial places him among our country's greatest leaders and patriots," The Topeka Capital-Journal reported.
The 14-inch wide and 10-inch high bronze plaque will be placed on a main access near the visitors center to the memorial, which has become one of the most popular tourist destinations in Washington D.C. since it opened seven years ago.
Dole said he was humbled by the honor and accepted it on behalf of "all veterans, particularly my generation of World War II veterans who preserved liberty and freedom for us and for millions of others around the world."
Copyright 2018 The Associated Press. All rights reserved. This material may not be published, broadcast, rewritten or redistributed. We strive to uphold our values for every story published.