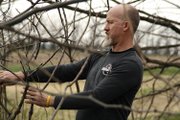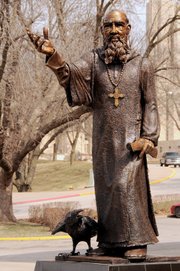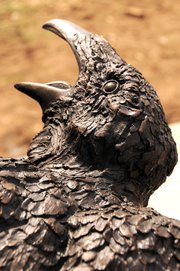 For the past several months, Tim Mispagel has been a busy man. In addition to his duties as a full-time art teacher at De Soto High School and his obligations as a husband and father to three, he has been creating an 8-foot-tall bronze sculpture for Benedictine College, his alma mater.
Mispagel, who graduated from Benedictine in 1993 and has been teaching at DHS for the past 10 years, unveiled the finished sculpture at a special ceremony last month on the school's campus in Atchison.
"This sculpture is the biggest thing I've done in my art career," Mispagel said. "I'm very honored that I was able to give back to my alma mater and excited to be a part of its growth."
Doing his research
Mispagel began the project by making a small version in clay after doing extensive research on what kind of man St. Benedict was and what his life would have been like. Because there are no accurate depictions of the saint, Mispagel read biographies and descriptions of him. He also visited St. Benedict's Abbey to observe the monks there and to see what Benedict's habit looked like.
"In my research I learned that St. Benedict was a very centered person, a very strong person," Mispagel said. "I wanted to portray a strong figure. … I wanted to avoid any signs of frailty."
Once the small version of the sculpture was completed, Mispagel had the model scanned, enlarged and carved into plastic foam by a computerized machine. Once the foam model was completed, he made slight alterations and created the final mold, which was shipped in pieces to Ad Astra Art Bronze Inc. foundry in Lawrence. The final mold was 22 pieces in all.
"A sculpture this size is all about putting the pieces together to make something great," Mispagel said. "That's how sculpture is like-life, and that's one of the things I love about it."
Sculpting his passion
Mispagel's love for his art is evident from the passion in his voice as he speaks about this project as a legacy for his children and an inspiration for his students.
"It was exhausting teaching full time and being a full-time dad and making this sculpture, but you get through because it's a passion," he said. "I shared the entire process with my students, and I hope they take more pride in their own work now that they've seen me take pride in mine."
Mispagel also involved his children, ages 13, 6 and 3, in the process.
"I just built a studio onto my home so I can have my kids there working with me," he said. "I could have leased studio space somewhere else, but I didn't want to be away from my family like that."
And while Mispagel is quick to say it will be up to his children where or how they choose to advance their education, he does have his dreams.
"I like the idea of my kids going to Benedictine and saying to their friends, 'My dad made that,'" he said.
Mispagel, who previously worked for Hallmark and as an illustrator, said sculpture provides a connection that couldn't be made on paper or canvas.
"The special thing about sculpture is that it's interactive. People can walk around a sculpture and touch it. It's meant to be touched," Mispagel said. "I really tried to play with the texture of the piece to encourage viewers to reach out and touch."
Copyright 2018 The Lawrence Journal-World. All rights reserved. This material may not be published, broadcast, rewritten or redistributed. We strive to uphold our values for every story published.