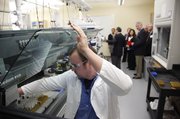 Members of the Kansas Board of Regents were in Lawrence on Friday and toured several parts of the Kansas University campus.
Shortly after touring chemical labs on West Campus in the Shankel Structural Biology Center with Jeff Aube, professor of medicinal chemistry, regents said they were impressed by what they saw and heard.
Ed McKechnie, regents vice chairman, said he was taken by the tremendous amount of energy he saw across the campuses. The regents had visited KU Medical Center in Kansas City, Kan., on Thursday.
"KU is an iceberg, and most people only see the tip of it," he said.
Regents also met with key university leaders, and heard updates on a variety of issues including drug discovery, journalism research and KU's efforts to retain students and graduate a higher percentage of them.
McKechnie said he had heard criticisms that KU wasn't focusing enough on excellence before his visit.
"I can tell you it's categorically untrue," he said of those allegations.
Regents spent part of Friday afternoon learning about drug discovery efforts from Aube, who told the crowd that universities have the capability to develop drugs that pharmaceutical companies won't touch because they won't necessarily turn a profit.
"We have to do good science, get grants, train students and do what we do," Aube told regents. "But we don't have to answer to shareholders."
Regent Jerry Boettcher of Manhattan said he always enjoys opportunities to connect with students when he visits the state's universities.
"I think you get a very strong overview of the depth and breadth of the research mission," of the university on a visit.
Copyright 2018 The Lawrence Journal-World. All rights reserved. This material may not be published, broadcast, rewritten or redistributed. We strive to uphold our values for every story published.