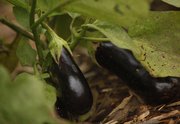 A student farm project at Kansas University aims to tap into a growing national trend, and open up the KU community to a space to grow and maintain their own food.
At KU, the project is still in its infancy, and remains relatively small.
A handful of students recently started the first plot on the farm, near the Lawrence Municipal Airport and the Prairie Moon School, 1853 E. 1600 Road, attached to the existing Native Medicinal Plant garden in the area.
Jason Hering, a KU senior from Hutchinson, developed the idea as part of an environmental studies class project last year.
Though eventually he envisions the farm serving as a space for research for professors and other curricular activity, now it's mainly a 10,000-square-foot community garden space, where students, faculty and staff can take possession of a plot, and get direction on how to maintain it.
"We just want to provide this for people to be able to grow their own food," Hering said, particularly for people who live in apartments or other places where gardening isn't acceptable.
In other areas of the state, campuses are sprouting their own farms, too, as students and others become more aware of where their food comes from.
Kansas State University has an operational student farm, with a three- to four-acre site that grows a variety of crops. There, the farm is under the direction of a student farm manager, who sells crops at the farmers' market, to local stores and, to a small degree, the campus itself.
About 60 schools across the country have registered student farms on an online registry, said Rhonda Janke, associate professor of horticulture at Kansas State and extension specialist who oversees the student farm in Manhattan.
Of those, only about 20 are at agricultural schools like Kansas State, she said. The projects range in scope. There's the campus community garden-type projects — found at places such as Arkansas. And then there are places such as Michigan State University, which has a fully operational farm that brings in almost $200,000 a year in revenue, Janke said.
At Kansas State, the farm typically brings in a few thousand dollars each year, but that figure has been growing of late, she said.
"You can start it with zero budget and zero staff," she said. "I think it's a growing trend."
Johnson County Community College, too, is beginning a similar project, said Jay Antle, executive director of the JCCC Center for Sustainability.
A student farm on the northwest corner of the Overland Park campus will provide produce for the culinary arts program, a place to reuse organic waste products and as instructional support for the school's sustainable agricultural program, he said.
That program teaches sustainable farming techniques to would-be farmers, along with entrepreneurial skills, Antle said.
The two-and-a-half acre site is just getting started this year.
"Lots of folks are doing it," he said. "A lot of students across the country are coming to understand that this makes sense."
Copyright 2018 The Lawrence Journal-World. All rights reserved. This material may not be published, broadcast, rewritten or redistributed. We strive to uphold our values for every story published.