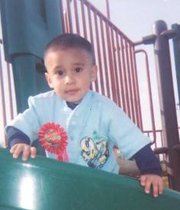 Garden City — Garden City police say a 2-year-old who had been reported missing at 12:30 a.m. Thursday has been found nearly nine hours later.
Police Sgt. Michael Reagle says a relative found Issiah Martinez at 9:15 a.m. in a vehicle parked in an alley in Garden City, eight to 10 blocks from where he originally was taken.
Police say the boy's mother left Issiah in an SUV with the motor running while she went into an apartment to pick up her 10-month-old child, who was staying with an aunt.
When the mother came out, the vehicle and her son were gone. The boy's disappearance prompted the Kansas Bureau of Investigation to issue an Amber Alert.
Reagle says the boy appeared to be unharmed but was taken to a local medical facility to be examined.
Copyright 2018 The Associated Press. All rights reserved. This material may not be published, broadcast, rewritten or redistributed. We strive to uphold our values for every story published.