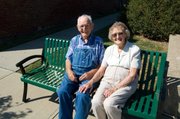 A.L. "Jim" and Dorothy Smith are celebrating 70 years of marriage.
And it's not the only day they celebrate together.
Jim and Dorothy also share the same birthday.
Jim was born on a farm north of Leavenworth on Dec. 28, 1919; a few miles away, on a farm south of Leavenworth, Dorothy was born the same day.
"And not in a hospital," Jim quickly quipped. "Those days, everybody was born at home."
They met at Leavenworth High School, and on Sept. 8, 1940, Jim Smith married Dorothy Hashagen.
Jim worked in a machine shop in Leavenworth and Dorothy delivered mail as a rural mail carrier before they started a welding supply company, which they operated for about 33 years. They then sold the business to one of their two sons, who later sold it himself. They retired from the business more than seven years ago at age 83.
"Don't you think at 83 that was time to get out?" Dorothy said with a smile.
Jim quickly chimed in.
"If it hadn't been for my age, I would have still been there," he said.
The couple also farmed and now like to spend considerable time gardening.
When asked what has kept them together for so many years, the rural Leavenworth couple playfully joked back and forth.
"Livin' afraid of her all these years," Jim said, acting as if he were cowering from his wife.
Jim said he also reminds his wife that in 70 years he could have dated several women.
"Yes, and you probably would have been dead," Dorothy said, not missing a beat.
Copyright 2018 The Lawrence Journal-World. All rights reserved. This material may not be published, broadcast, rewritten or redistributed. We strive to uphold our values for every story published.