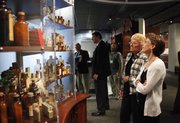 Kansas University celebrated its School of Pharmacy's 125th anniversary with speakers, a reception and a brand new building that will take the school to its next birthday and beyond.
Gov. Mark Parkinson, Chancellor Bernadette Gray-Little and Board of Regents Chairman Gary Sherrer all spoke to crowds gathered in the new high tech building on KU's west campus, as well as to other gathered remotely at the school's soon-to-open Wichita campus and to others on the medical center campus in Wichita.
The new building is perfect for events like this because its designed to facilitate students and faculty in Lawrence or in Wichita to be able to interact with each other simultaneously. The new building has several classrooms that are outfitted with cameras and microphones that lets students and instructors in Lawrence see and hear students and instructors in Wichita as the class is going on.
The new building, with over 100,000 square feet, allows the School of Pharmacy to increase its enrollment and will also support the school's new campus in Wichita. All told, it cost nearly $50 million, though the school is waiting to hear if the Federal Emergency Management Agency will reimburse part of those costs because the building's basement is designed as a storm shelter for 750 people.
KU's School of Pharmacy is the third-oldest west of the Mississippi River.
Copyright 2017 The Lawrence Journal-World. All rights reserved. This material may not be published, broadcast, rewritten or redistributed. We strive to uphold our values for every story published.