Tony Brown and his opponent, TerriLois Gregory, both live in Baldwin City, but that's where the similarities stop.
-->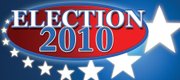 Find detailed candidate profiles, campaign finance information and complete election coverage in our Election Guide.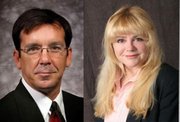 Tony Brown and TerriLois Gregory are running for Kansas House District 10.
Brown, a Democrat, and Gregory, a Republican, are vying for the 10th District Kansas House seat.
In Douglas County, District 10 covers Baldwin City, parts of Lawrence and the townships of Palmyra and Wakarusa. In Franklin County it covers the city of Wellsville, parts of Ottawa, as well as the Franklin, Hayes, Peoria and part of Ottawa townships.
Brown, who has been in office the past two years, is fighting for re-election in the district because, he says, there is a lot more work to do.
As a former professor, he says his top priority is education funding.
"I think it's important to fund the schools so the kids get those benefits but I think it benefits the entire state," he said. "I think that's the economic engine that runs the future Kansas economy."
He also wants more funding for social services and says he will concentrate on renewable energy sources.
While in office, Brown voted for the 1-cent sales tax increase, something his opponent disagrees with.
Gregory said she decided to run based on many of the decisions that were made while Brown was in office.
"I think hard-working Kansans are suffering right now because of major directives that have been made by past Legislatures and by administration, and one of them being that they've lacked discipline in how they spend the people's money," Gregory said.
Gregory, who had been working as a legislative aide, says her first priority will be to get spending under control.
"We've had a 40 percent increase in our spending in the last five years and our revenues are not keeping pace with that," she said. "I think we need to learn to live within our means instead of tax more and spend more."
She also wants to grow the economy by backing businesses and creating more jobs, saying that if the private sector is healthy then the public sector will be healthy as well.
Brown, however, worries Gregory's philosophies could be disastrous for Kansas.
"One of her major goals in education appears to be to shift the burden down to local communities to fund local schools as opposed to state-funded schools," Brown said. "And that's terrific if you are in a large school district or a wealthy district, like Johnson County, but that would be disastrous for Baldwin City or Wellsville or some of the smaller communities."
Voters go to the polls Nov. 2.
Copyright 2017 The Lawrence Journal-World. All rights reserved. This material may not be published, broadcast, rewritten or redistributed. We strive to uphold our values for every story published.