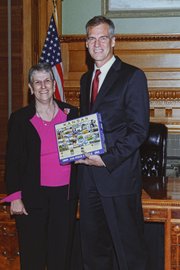 From Carrie Nation to the Kansas Speedway, the State Library has produced a Kansas-themed puzzle featuring heroes, heroines and famous sites of the Sunflower state.
The 550-piece puzzle is for sale at stores across the state including The Raven and The Kansas Sampler in Lawrence. The suggested retail prices is $17.95.
"The puzzle was originally created as a graphic for the 2011 Kansas Reads poster," said State Librarian Jo Budler. "The more we looked at how beautifully the pictures came together, and the incredible story it told, it seemed inevitable to explore the possibility of producing a puzzle that could be shared," she said.
Copyright 2018 The Lawrence Journal-World. All rights reserved. This material may not be published, broadcast, rewritten or redistributed. We strive to uphold our values for every story published.