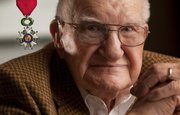 World War II veteran Medford H. Shively will be presented with the French Medal of Honor and named a Chevalier (Knight) of the Legion of Honor of the French Republic for his service during the war.
Shively, 87, a longtime Topeka resident who now lives with his daughter, Theresa Shively-Porter, in Lawrence, served in the U.S. Army.
He fought in the Rhineland and central Europe as a member of the Cannon Company, 222nd Infantry Regiment, 42nd Infantry Division.
For his service in World War II, Shively was awarded the Bronze Star, the American Theater Medal, the European-African-Middle East Campaign Medal, the Good Conduct Medal and World War II Victory Medal. He also earned the Combat Infantry Badge and Rifle Sharp Shooter Medal.
His daughter said that about a year ago Shively read a newspaper article about the French Medal of Honor and thought he qualified. So the family applied, and in August he was notified by the French ambassador that he would receive the honor. French consulates in the United States distribute about 100 medals each year.
A formal ceremony presenting the award will take place at 7:30 p.m. Wednesday at the American Legion Post 400 in Topeka, at 3029 NW U.S. Highway 24.
After the war, Shively obtained a doctoral degree in business and was a businessman, then taught business at Kansas Wesleyan University before working for the Kansas Corporation Commission and then the Kansas Neurological Institute.
He and his wife, Juanita, had six children and were married 60 years. She died earlier this year.
Shively-Porter said her father never talked that much about his wartime experience, but she said that receiving the award is "pretty awesome."
She added, "We're just really excited for him and very proud he has gotten this award. It's great for veterans to be shown this recognition."
The Legion of Honor was created by Napoleon Bonaparte in 1802 to acknowledge great services rendered to France.
Maj. Gen. Tod Bunting, the adjutant general of Kansas, will present the award to Shively.
Copyright 2018 The Lawrence Journal-World. All rights reserved. This material may not be published, broadcast, rewritten or redistributed. We strive to uphold our values for every story published.