Photo Gallery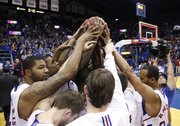 KU vs. Texas A&M-Corpus Christi
Press Conferences & Post-Game Interviews
Texas A&M-Corpus Christi coach Perry Clark
Texas A&M-Corpus Christi coach Perry Clark talks to reporters following the Jayhawks' 82-41 victory the Islanders.
Press Conferences & Post-Game Interviews
KU coach Bill Self
Kansas coach Bill Self talks to reporters following the Jayhawks' 82-41 victory over Texas A&M-Corpus Christi on Nov. 23, 2010.
Kansas University interim athletic director Sean Lester presented the game ball to basketball coach Bill Self in a short ceremony immediately following the Jayhawks' 82-41 rout of Texas A&M-Corpus; Christi on Tuesday night in Allen Fieldhouse.
Self immediately flipped the rock to senior Brady Morningstar, who hot-potatoed it over to fellow senior Mario Little.
One thing is for sure: KU's coach wanted to deflect the credit to his players for home victory No. 63 in a row — one more than the previous school record of 62 set from 1994-98.
"That's just coach," junior guard Tyshawn Taylor said after dishing nine assists, two off a career high. "Last year when we got the 2,000th win (in school history), he didn't want to get the recognition, either.
"Coach is real happy about it. He expressed his emotion to us in the locker room. We've got a lot of games left. We've just got to maintain it."
Larry Brown's Jayhawks won 55 in a row, surpassed by Roy Williams' teams' total of 62.
"I thought it was great, well deserved," Taylor said of the postgame presentation. "Coach has been putting a lot of work in. I'm just glad to be part of it, glad I could help him win some of those games here."
The Jayhawks (4-0) — who put away the Islanders (1-4) following a 17-4 run to close the first half — set the homecourt win record in similar fashion to so many wins before: by blowout.
In all, 55 of the 63 victories in the streak have been by 10 or more points. Thirty-four of the victories have been by 20 or more points.
"I think we're cheating, actually, with this crowd. I mean, I don't see how anybody could come in here and be completely calm with our crowd basically on top of you every second of the game," KU sophomore forward Thomas Robinson said after scoring 15 points off 7-of-8 shooting with five rebounds in 16 minutes.
"So I definitely feel like the crowd has something to do with it," added Robinson, who had three of KU's eight dunks, including two off feeds from Taylor late in the first half.
"It's good for my name to be a part of it, but it'll be even better for my name to be the one who kept it. I'm looking forward to this team keeping the streak."
Morningstar — the only player on the team to have experienced a loss in Allen (69-66 to Texas A&M; his freshman year) — said he enjoyed the postgame accolades, which included the players huddling together as one with the game ball high in the air.
"Pretty sweet ceremony," said Morningstar, who had four steals, all in the first half. KU had 10 steals in all.
"I almost shot it," he added of the pass from Self. "Coach told me, Tyrel (Reed) and Mario (Little) to go get the ball, but then they called coach's name so he had to go out there. He had to go get it. He threw it to me. I was like, 'What do I do with it?' I handed it to Mario."
On a serious note, Morningstar added: "Everyone who has ever won a game at Allen Fieldhouse as a Jayhawk knows how cool it is to play here. To have a streak like this and be a part of it and keep it going, it's pretty cool."
Self acknowledged that, "It (streak) is nice to have. It's nice the fans recognized the fellas. I'm not going to downplay it. It's not something that should be on our mind every time we play at home. We just need to go play. There is no extra pressure having the streak here."
The Jayhawks came to play on the defensive end Tuesday, holding the Islanders to 31.0 percent shooting, including miserable 3-of-17 from three.
Robinson led the Jayhawks in scoring, followed by Marcus Morris (12 points, 5-of-10 shooting) as well as Mario Little (11) and Travis Releford (career-high 11).
"We played pretty well defensively," Self said. "That's what Perry (Clark, A&M; coach) said after the game. We guarded them pretty well. We've improved in that area 50 percent at least since 10 days ago. We've gotten a lot better."
Morningstar was pleased to provide the early spark with his steals.
"It's a good way to get going up-tempo," Morningstar said.
The Jayhawks will meet Ohio University at 7 p.m. Friday at Orleans Arena in Las Vegas.
Copyright 2018 The Lawrence Journal-World. All rights reserved. This material may not be published, broadcast, rewritten or redistributed. We strive to uphold our values for every story published.