Photo Gallery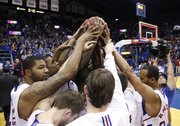 KU vs. Texas A&M-Corpus Christi
Press Conferences & Post-Game Interviews
Texas A&M-Corpus Christi coach Perry Clark
Texas A&M-Corpus Christi coach Perry Clark talks to reporters following the Jayhawks' 82-41 victory the Islanders.
Press Conferences & Post-Game Interviews
KU coach Bill Self
Kansas coach Bill Self talks to reporters following the Jayhawks' 82-41 victory over Texas A&M-Corpus Christi on Nov. 23, 2010.
Count not wanting to be the recipient of a scolding from the coach and a glare from a disapproving teammate among the motivating factors for Kansas University basketball players to bring defensive intensity on every possession.
Negative motivators work, but nothing gets the job done quite like positive reinforcement. For basketball players, no prize tops a rim-jarring dunk.
KU coach Bill Self used his players' love of dunking to inspire them to keep the defensive juices flowing in Tuesday night's 82-41 blitzing of Texas A&M-Corpus; Christi, the record 63rd consecutive victory in Allen Fieldhouse for the home team.
Five players combined for eight first-half dunks, including three in one minute. The Islanders had nearly as many turnovers (11) in the half as points (17, just one more than KU generated on dunks).
Sophomore post player Thomas Robinson led the assault on the rim with three slams. Travis Releford had two, Marcus Morris, Markieff Morris and Elijah Johnson one apiece.
"We just stepped up our defense for that stretch, and it was fun," Robinson said. "Just like coach said, 'It excites us to get a dunk.' We want another one. So after we get that, we'll be coming back thinking, 'Let's get another steal, get somebody else a dunk.' It was fun, especially what Travis did on the break."
Releford threw down a reverse slam that sent the decibel level to a season-high.
"I think that excited the whole state," Robinson said. "Everybody wanted to get out there now and try it. I think he had the best dunk in the country. I know there are a lot of teams playing tonight, but that was crazy. That will definitely be a top 10."
Robinson meant top 10, as in ESPN's Plays of the Day. Should it be No. 1?
"Unless LeBron's playing tonight, or Blake Griffin," he said.
Robinson got way up there on one of his uncontested dunks and was asked after the game: Is there anything better than a big, powerful dunk?
"Yeah," he said. "A big, powerful dunk on somebody."
Robinson has made progress in taming his wild talent. In 16 minutes Tuesday, he totaled 15 points and five rebounds. He still has retro moments from time to time. His one miss in eight attempts was an airball that came on a contested shot from the corner that would have been ill-advised had Karl Malone taken it in the prime of his career. Still, Robinson has improved, looking dominant at times against the weak competition KU has played so far. He's averaging 11.8 points and eight rebounds per game in 17.5 minutes.
Even without Cole Aldrich covering such a big area and serving as a roadblock for drivers attempting to get to the hoop, this team has a higher defensive ceiling than KU's previous two.
"I think we do," Tyshawn Taylor said. "We play so fast. We have guys who can pressure. And we're a real athletic team with our bigs, T-Rob and the twins. I think we can be a great defensive team."
Robinson agreed: "Our bigs are all-around faster than we were last year. I think that will help us with things like trapping the ball screen, switching five (players). Overall, that will make us faster."
And lead to more dunks.
Copyright 2018 The Lawrence Journal-World. All rights reserved. This material may not be published, broadcast, rewritten or redistributed. We strive to uphold our values for every story published.