Photo Gallery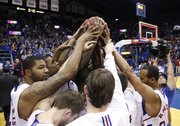 KU vs. Texas A&M-Corpus Christi
Press Conferences & Post-Game Interviews
Texas A&M-Corpus Christi coach Perry Clark
Texas A&M-Corpus Christi coach Perry Clark talks to reporters following the Jayhawks' 82-41 victory the Islanders.
Press Conferences & Post-Game Interviews
KU coach Bill Self
Kansas coach Bill Self talks to reporters following the Jayhawks' 82-41 victory over Texas A&M-Corpus Christi on Nov. 23, 2010.
When Texas A&M-Corpus; Christi coach Perry Clark scouted Kansas University's basketball team in preparation for Tuesday night's game at Allen Fieldhouse, the veteran coach noticed one thing.
"Coming in, I thought they were one of the most intelligent basketball teams that I've seen play," Clark said. "They are so unselfish, they make the extra pass, they know what they're doing at all times. They have complete command of what it is they're trying to do. Normally, at this time of the year, you don't see that."
After watching the Jayhawks in person and winding up on the sore end of an 82-41 setback Tuesday, Clark discovered something he hadn't seen on film.
"They look like they just love to play basketball," he said. "I'm sure (KU coach) Bill (Self) will come in and complain about this and complain about that because that's what coaches do. But they're pretty darn good, and I think there's a lot of coaches that would love to trade his problems for ours."
Said Self, of Clark's assessment: "It is true. Of all the teams that we have had here, this team likes to play more than any other team. They play more pick-up and get together and shoot on their own. That is contagious."
Tuesday, the problems for the Islanders were many. KU's defense was suffocating. The KU offense shot lights out. And the Allen Fieldhouse crowd, on hand to watch the Jayhawks break the school's home-court winning streak record with their 63rd victory in a row, was loud and energetic.
All of that combined made for a long night for Clark, who said he was entertaining the idea of making a return trip to Allen Fieldhouse just so he could enjoy it more.
"Buildings don't beat you. Players do," Clark said. "I'm sure if I come (back) in the summer, it'll be a lot more pleasant than it was tonight."
For the first six minutes or so, it looked as if the Islanders might be able to compete with Kansas. But then KU junior Marcus Morris started a seemingly endless stretch of first-half dunks, and a three-point KU advantage quickly ballooned into 10, then 20, and KU led 42-17 at the half.
"Once they got off and running, it was like a juggernaut," Clark said. "They're just a really fine team. They just replace one athlete with another athlete."
In recent match-ups with Big 12 foes Texas A&M; and Oklahoma State, Corpus Christi lost by an average of 17 points. That includes a 68-58 loss at OSU last Wednesday. Clark's crew wasn't even in the ballpark of competing with the Jayhawks like that Tuesday, and, after the game, Clark offered a clear idea on why.

"If they continue to get better and play together like they're doing, they're going to be awful tough to beat," he said.
Copyright 2018 The Lawrence Journal-World. All rights reserved. This material may not be published, broadcast, rewritten or redistributed. We strive to uphold our values for every story published.