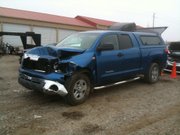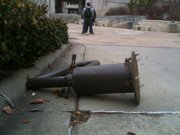 E. 1450 Road north of N. 1900 Road
It's anticipated formal charges will be filed today against a 23-year-old Arkansas man who is under arrest in connection with a Tuesday morning hit-and-run accident that killed one person.
Sgt. Steve Lewis, a Douglas County Sheriff's spokesman, said the suspect was driving a 2008 Toyota Tundra pickup truck that rear-ended a 1999 Mazda 626 car. The accident occurred about 3:40 a.m. on U.S. Highway 24-59 north of Lawrence.
Capt. Schuyler Bailey, a Kansas University Public Safety office spokesman, said officers believe the pickup truck was stolen before the accident from the 1400 block of Jayhawk Boulevard, which is in front of Watson Library on the KU campus.
According to jail records, the suspect — Zachary Tyler Harrison from Cabot, Ark. — was booked into jail on charges of involuntary manslaughter, three counts of aggravated battery, leaving the scene of an injury accident and one count of failing to report an accident. Prosecutors will make the decision about formal charges.
Bailey said police did not think Harrison has any connection to KU.
Lewis said four 21-year-old men from Nebraska were in the car. A back-seat passenger later died from his injuries at Kansas University Hospital in Kansas City, Kan. Another back-seat passenger was taken to KU Hospital via ground ambulance.
The driver and front-seat passenger were both taken to Lawrence Memorial Hospital. Their injuries were not believed to be life-threatening, Lewis said.
Officials did not release the names of the men in the car.
Officers allege Harrison drove from the accident scene. He was later stopped and detained by police.
Lewis said the suspect was tested for alcohol, which is standard procedure in a fatality accident.
Lewis and Bailey said they didn't believe the driver of the pickup was being pursued by officers before the crash.
"The investigation is still going on," Lewis said. "From the interviews, it appears the driver of the Mazda was aware that there was a vehicle behind him, but he wasn't aware that he was going to be struck."
Sheriff's officers worked much of Tuesday morning at the accident scene. Both lanes of U.S. 24-59 were closed between North 1900 Road and Midland Junction and reopened around noon, Lewis said.
Chris Bell, the Journal-World's circulation manager, said the owner of the private pickup truck that was stolen was an independent contract newspaper carrier who was taking four different newspapers to KU's campus as part of the Newspaper Readership Program. He was filling newspaper boxes when the suspect allegedly stole his truck.
A vehicle barrier was heavily damaged behind Wescoe Hall Tuesday morning.
Douglas County District Attorney Charles Branson said Harrison likely would make his first court appearance this afternoon.
Copyright 2018 The Lawrence Journal-World. All rights reserved. This material may not be published, broadcast, rewritten or redistributed. We strive to uphold our values for every story published.