Photo Gallery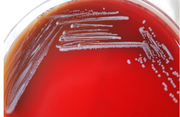 Diseases for study
These are some of the diseases being studied at K-State's Biosecurity Research Institute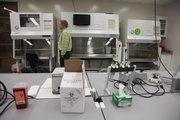 Manhattan — Kansas State University's Biosecurity Research Institute is designed to let little in or out.
Just east of the Bill Snyder Family Football Stadium and down the hill from a cow pasture, the 113,000-square-foot facility is guarded with a fence and security team that checks in visitors at the door.
Its purpose is to study some of the world's most dangerous diseases that can spread through animals or the nation's food supply. Some, such as avian flu, the plague and anthrax, are well known. Others, such as Rift Valley Fever and exotic bluetongue, are not. All of them are a concern because of their serious threat to humans and animals.
'Linchpin' for NBAF
BRI, housed in Pat Roberts Hall, opened in 2007 and has received increasing attention as it gears up to study diseases that will be the foundation of research at the National Bio and Agro-Defense Facility. The $650 million federal laboratory will be built right next door to BRI.
The plan is for BRI to start studying five of the eight diseases NBAF has identified as threats to national security. That work will take place years before the federal facility opens its doors in 2018.
BRI's very presence, said Kansas Bioscience Authority CEO and President Tom Thornton, gave the state an advantage in landing NBAF.
"The BRI was in some respects a linchpin," said Thornton, whose organization set aside $35 million to initiate NBAF research at BRI.
"I don't think any other state or region remotely understands what it meant for NBAF," he said.
In 2008, the bipartisan congressional Commission on the Prevention of Weapons of Mass Destruction Proliferation and Terrorism identified a biological attack as a more likely threat than a nuclear attack. This year, the commission gave the government a failing grade in its ability to recognize, respond and recover from such an attack.
Bioterrorism is an important incentive for the work being done at BRI, its director Scott Rusk said, but there are other threats as well.
"The real risk, the most likely event that we worry about is a natural occurrence of a disease that doesn't exist in the United States," Rusk said.
Many precautions
What makes BRI such a unique research space is its ability to study large, domestic animals in areas that are classified as Biosecurity Level 3 labs. The classification is the next-to-highest security level in terms of the measures taken to make sure the agents being studied in the lab won't contaminate people.
While there are a host of BSL3 labs that can study diseases in rodents, few can study the same diseases in cows, sheep or pigs. The space at BRI allows them to do just that.
A tour through the large space that houses BRI's heating, ventilation and air-conditioning system gives a peek into just how many steps are taken to secure the facility. In a series of elaborate silver tunnels and gray boxes, the HVAC system is laid out right above the building's 30,000 square feet of lab space.
Each laboratory has its own ventilation system so air going into one room doesn't contaminate air from another lab. Before the air is pumped out of the building into the rest of Manhattan, it's run through a series of filters that sterilize it.
Depending on how lethal the pathogen is, researchers and animal caretakers have to change clothes and shower before entering or leaving a laboratory. Those steps have to be taken every time a researcher goes to lunch, gets a drink of water or uses the bathroom.
"If you have a parent/teacher conference at 3:15 p.m. and it's 3:30 p.m., you aren't going to get out in time. You can't cut corners," Rusk said. "You have to plan your day around that."
In three months, 1,500 showers were taken when researchers studied the porcine reproductive and respiratory syndrome virus, a disease that caused an epidemic among pigs in China.
For diseases that can be transmitted through the air, masks must be worn. Any other materials that leave the laboratories must be disinfected through heat, gas or chemicals.
Taking notes with paper in the labs isn't recommended, Rusk joked.
Once the material is sterilized, it goes to a nearby landfill.
As for the animals, Rusk describes their fate as "not going back to the food source," which means they are killed and then disposed of through tissue digestion, a process that dissolves the bodies through a chemical mixture.
The steps the laboratory takes for security are scrutinized by federal agencies before the lab can receive any vials of dangerous diseases they are studying. Some of the research is already underway while BRI is seeking approval for other work. Much of that research is tied to NBAF.
In terms of both research and security measures, the BRI offers a preview as to what the estimated 500,000 square-foot NBAF will bring to the state.
"For our transition strategy, the BRI is really critical," Thornton said.
Copyright 2018 The Lawrence Journal-World. All rights reserved. This material may not be published, broadcast, rewritten or redistributed. We strive to uphold our values for every story published.