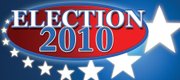 Find detailed candidate profiles, campaign finance information and complete election coverage in our Election Guide.
Topeka — Kansas election officials say early voter turnout is a little heavier than anticipated.
Several officials said Tuesday that total participation could hit or exceed 50 percent.
Kansas Secretary of State Chris Biggs had predicted that about 820,000 people would cast ballots. That would be a turnout of about 48 percent.
But Brad Bryant, the office's elections director, said 229,000 Kansans cast ballots in advance, which is more than expected.
In Sedgwick County, Election Commissioner Bill Gale said polling places there have seen steady voting. He said turnout is on track to hit 50 percent.
And in Johnson County, Election Commissioner Brian Newby said the 15 machines at the two polling places he visited were all occupied, with a few people waiting.
Copyright 2018 The Associated Press. All rights reserved. This material may not be published, broadcast, rewritten or redistributed. We strive to uphold our values for every story published.