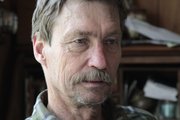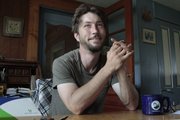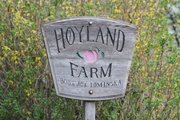 Hoyland Farm
Avery Lominska's job description is in black-and-white, right there on his leg.
There, on skin that's been tanned by hours upon hours spent in the sun, is a message much louder than even his recognizable name: three ripe tomatoes, tattooed into his calf.
"We copied them out of the seed catalog, actually," Lominska says. "Jet Star, yellow pear and purple cherry, which are all varieties I grow."
There isn't much that Lominska doesn't grow. If it'll germinate in the soils of Hoyland Farm north of Lawrence, he'll give it a go. He grew an estimated 216 varieties last year, including about 40 more types of tomatoes than those etched into his leg.
Why so many kinds? Lominska reckons that the more types he has, the easier it is to catch a customer's eye in the maze of produce that is the Lawrence Farmers' Market.
"If you want to increase your sales, the surest way to do it is to add a new product," he says. "I mean, everybody's got tomatoes, so I probably can't sell a whole lot more tomatoes, but I can sell 45 varieties of tomatoes and that will definitely increase tomato sales."
And those sales are extra-important, because Lominska is counting every red cent. He's a full-time farmer, making nearly all of his income Saturday mornings at the Lawrence Farmers' Market from Avery's Produce stand. A sign in front of his spread of greens proudly tells customers "Organic for over 30 years, now certification-free."
Now, Lominska is only 31 and has been a full-time farmer for about seven years. His father, Bob, is Hoyland Farm's founder and currently its only other full-time employee. And Bob is certainly a name in the local food community, having supplied organically grown produce - with and without USDA's certification - for longer than Avery's been alive.
Since Bob Lominska's retirement from teaching in 2005, father and son have hit the fields together in what they term as a loose partnership. Meaning, Bob is having a very active retirement while supplying subscribers to the Rolling Prairie Farmer's Alliance and buyers like the Community Mercantile, 901 S. Iowa, while Avery is doing something his father always felt was too risky: living life as a full-time farmer.
"I worked in the Peace Corps in Nicaragua, and I just realized all the risks involved to farming," Bob Lominska says of those days seeing tragic subsistence farmers. "I knew I didn't want to do that full-time.
"It's terrifying."
Skills in living poor
The farming life was much too dicey for a man with a wife and three kids, even if he'd been selling produce since the days before he had acreage to call his own. But, just as much as his father's life wasn't cut out for the full-time farming, Avery Lominska's life happens to be perfectly in line with what farming requires.
First of all, he's got access to 69 acres without a big loan for land or equipment - the farm was paid for when Avery was in grade school. And he's got a walking encyclopedia of organic farming knowledge for a business partner. But, most importantly, he's got what his father calls a select skill set that makes it possible for him to live on a farmer's nickel-and-dime salary and still manage to take trips like a recent driving tour in El Salvador.
"It takes real skill to live poor, too," Bob Lominska says. "It takes a lot of smarts to get by."
Avery Lominska learned those smarts while living as a street musician for six years, a life even more unpredictable than farming, to be sure. He resided in a van and pinched pennies to thrive, preferring to forgo a real job that would trade his independence for a time card. He says his life singing on the streets was more than enough to teach him to weather the ups and downs of full-time farming.
"I'm totally used to (the thought that) a rainy weekend could totally ruin my income as a street musician and now a hail storm could do the same thing," he says. "That's probably a good way to make farming seem like pretty good money, actually, you know. When $30 or $40 at a time seems like pretty good money, making $100 farming sounds like really good money."
Home in the hills
As the Farmers' Market enters the high season, Avery Lominska is working 60-hour weeks to have enough produce to make that lifestyle work. And anything he doesn't sell at the market gets made into a massive meal when he returns to the home he owns just up the road from his dad's property.
His house is a foreclosure he got for a steal - and then promptly renovated to fit his simple lifestyle by removing one of the two bathrooms, central air, central heat and then adding a greenhouse to the south-facing wall. The green house provides heat, lets clothes line-dry and, of course, allows for Hoyland Farm to get a jump-start on this season's more than 200 varieties of produce.
Bob jokes that his son's lifestyle rivals that of Lawrence's earliest settlers, a claim Avery won't correct.
"I have different goals than a lot of people. I don't have children, and I don't intend to. Raising children the way I live might be considered child abuse," he says with a wry smile as his dad cracks a joke about Abe Lincoln turning out OK after such a childhood. "I'm fine without central heat, or hot water for that matter. I just got a hot water heater like a month ago. I'm fine with not having insurance on my house. I haven't had health insurance for 12 years. It might bother my parents, but it doesn't bother me too much."
A tad unconventional, but perfect for a modern-day steward of the land? Yes, his life is just like his tattoo, which a friend has suggested he turn into a logo for the farm. But Lominska is already thinking of adding more varieties, just for the heck of it, just like on his farm.
"I figure if I go back," he says, shrugging. "I'll get garlic or a radish or something."
Copyright 2018 The Lawrence Journal-World. All rights reserved. This material may not be published, broadcast, rewritten or redistributed. We strive to uphold our values for every story published.